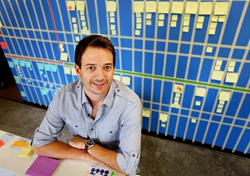 We're excited and proud to have made the Inc 500|5000 Fastest Growing Companies list for the second consecutive year," said BlueAcorn Founder & CEO, Kevin Eichelberger.
Charleston, SC (PRWEB) August 22, 2014
Recording a three-year growth rate of 566%, Blue Acorn is ranked No. 803 on Inc. Magazine's 33rd Annual Inc. 500|5000, an exclusive list of the nation's fastest-growing private companies. The 2014 Inc. 500|5000 also lists Blue Acorn as the No. 6 fastest-growing company in South Carolina.
"We're excited and proud to have made the list for the second consecutive year," said Kevin Eichelberger, Founder & CEO of Blue Acorn. "When I moved the business to Charleston almost 6 years ago, I never anticipated or dreamed that we'd make the Inc. 500|5000 list - not only once, but twice."
As a leader in the eCommerce implementation and optimization space, Blue Acorn differentiates itself from the competition by taking what it calls an "Intelligent" approach to eCommerce, which relies on the intelligence derived from its clients' qualitative and quantitative data to help them make the best decisions possible.
In addition to its clients' analytics, Blue Acorn utilizes A/B testing as a means of obtaining quantifiable data. In fact, they built the official Optimizely extension for Magento, which enables an easy and more advanced integration between the world's most popular testing platform – Optimizely – and the world's most popular eCommerce platform – Magento.
Blue Acorn proudly centralizes its entire talent pool in Charleston, SC. In an industry where similar services are often outsourced to countries with cheaper labor, Blue Acorn has all of its employees under one roof in its new office that was custom designed to maximize the efficiency of its Agile workflow methodology.
Keeping all of its employees in house allows Blue Acorn to maintain the type of company culture that Eichelberger is determined to never lose. Blue Acorn team members enjoy flexible hours, a relaxed dress code, catered lunches monthly, a dog-friendly office, and plenty of fun times to keep the work-life balance in check.
Over the past few years, Charleston has been dubbed "Silicon Harbor," and Blue Acorn is joined on this year's Inc. 500|5000 list by Charleston-based tech companies like PureCars (#141), SPARC (#700), Omatic Software (#1349), and others.
"While this award is a great recognition of our growth, and definitely something for us to celebrate, I'm most impressed that we've accomplished this growth while building a reputation for quality and client success along the way," said Eichelberger. "We'll enjoy the opportunity to celebrate our accomplishment, but what's more important to me is the quality of our work and maintaining lasting relationships with our clients."
About Blue Acorn:
Blue Acorn is a premium eCommerce agency helping retailers and brands achieve revenue growth through a comprehensive, data-driven approach. In order to best support this approach, Blue Acorn became the first Magento Solution Partner to also hold certified partnerships with Google and Optimizely. They are committed to delivering Intelligent eCommerce solutions rooted in data and driven by their best-in-class design, development, and optimization capabilities.