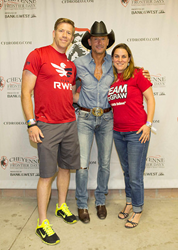 Yountville, CA (PRWEB) August 22, 2014
Tug McGraw Foundation and Team McGraw is partnering with Team Red, White and Blue (Team RWB) to participate in the 39th Annual Marine Corps Marathon on October 26, 2014.
TRWB athletes and Team McGraw runners will join forces in coaching, training and participation for the 26.2-mile course that passes by the most significant highlights of our nation's capital and is often referred to as the Marathon of the Monuments.
Begun in 1975, the Marine Corps Marathon is the largest marathon in the world that does not offer prize money and was created to promote physical fitness, generate community goodwill and showcase the organizational skills of the United States Marine Corps. The race has become so popular, it now relies on a lottery to manage participation of its 30,000 participants.
Team McGraw is an endurance sports training program supporting the Tug McGraw Foundation's mission to provide resources and hands-on support, foster understanding and promote awareness, and stimulate research and scientific collaboration that improves quality of life for people with brain-related trauma and tumors.
"It's exciting that Team McGraw and Team Red, White and Blue are joining forces for such a monumental event like the Marine Corps Marathon," said Tim McGraw, Honorary Chairman of The Tug McGraw Foundation. "We all know that physical activity is a key element to maintaining overall health, but that also includes brain health. The spirit behind the race is simple, and I think we can all support the great initiative of promoting physical activity. I wish all the military men and women as well as civilians good luck on race day!"
Team RWB's mission is to enrich the lives of America's veterans by connecting them to their community through physical and social activity. Within their system of chapters and communities, Team RWB hosts weekly fitness activities, monthly social events and participates in races and events together, all the while welcoming and encouraging veterans to stay active and inspire others to do the same.
The Marine Corps Marathon (MCM) is the third largest marathon in the United States and voted "Best Marathon in the Mid Atlantic," and the Best Marathon for Charities and it is no wonder that our two organizations will align for this iconic race," said Mike Erwin, Founder and Chairman of the Board of TRWB. "What better venue to exhibit the collective power of dedication, patriotism and service than to partner with Team McGraw whose commitment to aiding people suffering from traumatic brain injury and Post-Traumatic Stress Disorder is unparalleled."
About the Tug McGraw Foundation TMF was established by Tug McGraw in 2003 to raise funds to enhance the quality of life of children and adults with brain tumors and their families by stimulating and facilitating research that addresses the physical, social, emotional, cognitive, and spiritual impact of the disease. Recognizing that other areas of brain research - such as traumatic brain injury and Post-Traumatic Stress Disorder - inform the science surrounding brain cancer, TMF has widened its scope to include a broader spectrum of the neuroscience to support advances in medical care and quality of life for our nation's battle-wounded, ill and injured service members. http://www.tugmcgraw.org
About Team RWB
Founded in 2010, Team Red, White and Blue chapters and communities deliver consistent, local opportunities for veterans and the community to connect through physical and social activity. They host weekly fitness activities, monthly social events, and participate in local races and events together. These programs are at the core of Team RWB's mission. Additionally, Team RWB is leading six Veteran Athletic Camps in various sports throughout the year. The organization is also organizing The Old Glory Coast to Coast Relay this fall, where 500 team members will run a single American flag from San Francisco to Walter Reed Veterans' Medical Hospital in Maryland. For more information visit TeamRWB.org