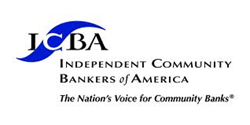 Los Angeles, CA & Toronto,ON (PRWEB) August 22, 2014
The ICBA Online Education Center has worked with Vubiz to continue to educate the nation's community bankers.
The Independent Community Bankers of America® (ICBA), the nation's voice for more than 6,500 community banks, and Vubiz, an award-winning e-learning company recently celebrated 12 years of successfully working together to deliver effective, efficient and affordable online training to America's community banks.
"ICBA is very proud of what our relationship with Vubiz has been able to accomplish," said Greg Martinson, ICBA executive vice president of Sauk Centre operations and education. "Together, we have made hundreds of hours of high quality online training available to our member banks."
As a result of the 12 year relationship between ICBA and Vubiz, more than 2,000 community banks have access to more than 300 online courses covering topics ranging from regulatory compliance to computer skills.
"The Team at Vubiz is very proud of the close working relationship we have with ICBA and the progress made over the last 12 years. It is a pleasure working with the innovative and professional team at ICBA and we look forward to many more years of providing leading edge online training to ICBA's members," said Jim Rapino, president and CEO at Vubiz.
The nation's community banks have received valuable online education training as part of the ongoing relationship between ICBA and Vubiz.

Individuals who take online training experience significantly higher rates of retention than those taking classroom courses - in less time. Content is delivered in smaller, more manageable units. Individuals can skim material they know, and review material that is new to them and students can convert information to knowledge at their own pace.
According to various published studies, individuals taking online training retain up to 100 percent more than if they took comparable classroom courses.
Taking an online training program typically requires 30 to 60 percent less time than attending a comparable classroom course.
As well as reducing training time, using online training programs eliminates the need for travel and its attendant expenses for both instructors and students. A study reported in Training Magazine indicated that organizations save 50 to 70 percent on training costs when they use online training programs instead of classroom courses.
To learn more about community banks or education services, visit http://www.icba.org. To learn more about Vubiz, visit http://www.vubiz.com.
About ICBA
The Independent Community Bankers of America®, the nation's voice for more than 6,500 community banks of all sizes and charter types, is dedicated exclusively to representing the interests of the community banking industry and its membership through effective advocacy, best-in-class education and high-quality products and services.
About Vubiz
Vubiz is an award winning elearning company that provides comprehensive services from a large, impressive online library of courses, to customized courseware production to distribution with learning management software. Vubiz's vision is to help organizations become more competitive through the use of world class Internet learning technologies and has built a superb reputation over the past decade of offering outstanding value and unbeatable customer support. Vubiz online courses and elearning technologies assist in building workforce excellence.