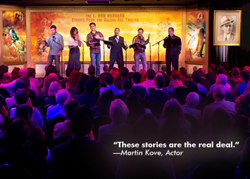 A unique, rarely seen form of family entertainment where one's own fertile imagination is required.
Hollywood, CA (PRWEB) August 21, 2014
The L. Ron Hubbard Theatre, located at 7051 Hollywood Blvd in Hollywood, just one block west of the Chinese Theatre, announced its calendar of performances beginning with "A Lesson in Lightning" Saturday, August 23 and August 30. Doors open at 7:00 PM and show starts at 7:30 PM.
The cast features:
Tamra Meskimen (One Life to Live, The Fresh Prince of Bel-Air and Arli$$. She is also the founder of the Really Spontaneous Theatre Company.)
Jim Meskimen (Internationally acclaimed impressionist and actor. Apollo 13, The Grinch and Friends.)
Travis Oates (original co-host of G4TV Arena and continuing the role of Piglet in the My Friends Tigger & Pooh cartoon.)
Vincent Caso (Bladezz on the critically acclaimed web series "The Guild")
"A Lesson in Lightning" — Assistant Professor Horace Purdy is well educated—you name the subject, he's a master of it. But, as he's about to discover, in the face of a cocked fist or loaded gun, all the classroom-knowledge in the world is purely academic. People say knowledge is power, and Purdy's got plenty of it, but if he's going to take on this crew of conmen and killers, he'll have to harness that power and capture lightning in a bottle.
The schedule for the rest of the season:
23 & 30 August A Lesson in Lightning
6 & 13 September Deep-Sea Diver
20 & 27 September River Driver
4 & 11 October The Shooter
18 October Mr. Luck
1 & 8 November Nine Lives
15 November Mr. Luck
6 December Steeplejack
Tickets are $15.00 and can be purchased at http://www.GoldenAgeTheater.com or at http://www.Plays411.net.
Specializing in the performance of stories written by bestselling author L. Ron Hubbard, the L. Ron Hubbard Theater has garnered rave reviews including this from LA Weekly, "A unique, rarely seen form of family entertainment where one's own fertile imagination is required."
For more information on the L. Ron Hubbard Theatre, go to http://www.goldenagetheater.com