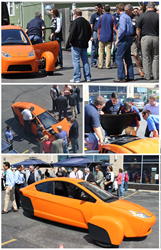 These companies and their team members provide technology, expertise and insight that is crucial to every mile per gallon and every penny we save.
Troy, MI (PRWEB) August 22, 2014
Elio Motors will launch a vehicle in 2015 that will get 84 MPG and sell for $6,800, revolutionizing the way Americans think about transportation. Bringing the vehicle to fruition is a total team effort, and is aided significantly by a blue-chip team of some of the world's top automotive suppliers.
Paul Elio, CEO of Elio Motors, was able to show his appreciation for the company's supplier partners at a ride-and-drive event on Aug. 15, the day before the Woodward Dream Cruise in Suburban Detroit. Nearly 150 supplier company executives and engineers attended the event and had the opportunity to test-drive Elio Motors' P4 prototype as a means to see first-hand how their expertise and innovation has come together.
"We are fortunate to have so many of the world's top supplier companies contributing to our success," Elio said. "These companies and their team members provide technology, expertise and insight that is crucial to every mile per gallon and every penny we save. It was an honor to host so many of these talented individuals and I am humbled by their genuine passion and enthusiasm for this product."
Elio Motors has a blue chip supplier partner list that has been instrumental to the success of Elio thus far. This list includes Altair, IAV, NEWTECH 3, Comau, Cooper Tires, Henkel, Admiral Tool, Technosports Creative, Cooper Standard, Dakkota Lighting Technologies, LLC, Detroit Thermal Systems, Eastern Catalytic, Flame-Spray Industries, Guardian, Mando Corporation, Irvin, Kiekert, Lear Corporation, Peterson Spring, Plastics Research Corporation, Superior Roll Forming, Takata, Prestone, FRAM, Bosch and Aisin.
Elio Motors has taken a unique approach in the auto industry to its supplier partner relationships. By hosting supplier roundtables on a regular basis, Elio Motors puts its supplier companies together for face-to-face interaction. This enhanced communication allows supplier partners to exchange ideas in real-time and helps foster decision making and teamwork. The result is that all sourcing decisions are made looking at the vehicle as a total system rather than making decisions on individual components. Ultimately, this helps maximize quality and performance while controlling costs.
Currently, the Elio Motors P4 prototype is on a multi-city nationwide tour to introduce the vehicle to automotive enthusiasts across the country. The vehicle is quickly building customer enthusiasm and creating passionate fans, as more than 28,000 people have reserved a spot in line to purchase a vehicle when they roll off the assembly line in 2015.
About Elio Motors
Founded by car enthusiast Paul Elio in 2008, Elio Motors Inc. represents a revolutionary approach to manufacturing an ultra-high-mileage vehicle. The 3-wheeled Elio is engineered to attain a highway mileage rating of 84 mpg while providing the comfort of amenities such as power windows, power door lock and air conditioning, accompanied by the safety of multiple air bags and an aerodynamic, enclosed vehicle body. Elio's first manufacturing site will be in Shreveport, La., with plans for the first production vehicle to roll off the assembly line in 2015 and significant production, sales and distribution during the next two years. For more information, visit http://www.eliomotors.com or http://www.facebook.com/ElioMotors.