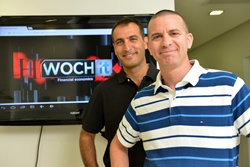 This year's winners are truly the most ingenious technologies and being included reinstates Wochit's vision of and dedication to transforming the video creation landscape.
New York, NY (PRWEB) August 21, 2014
Wochit, the creator of the revolutionary video creation platform, announced that it has been chosen by AlwaysOn as one of the OnMedia Top 100 Winners in the Consumer Services: Online Content Publishers category.
Inclusion in the OnMedia 100 signifies leadership amongst its peers and game-changing approaches and technologies that are likely to disrupt existing markets and entrenched players. Wochit was specially selected by the AlwaysOn editorial team and industry experts spanning the globe based on a set of five criteria: innovation, market potential, commercialization, stakeholder value, and media buzz.
"This year's OnMedia 100 winners are building on successes in digital media and branching out into new territory, taking advantage of today's advances in cloud computing and other on-demand services. Social commerce is flourishing, bringing prosperity to a wide variety of retail markets. Payment options are becoming even more user-friendly and secure. And advertising, marketing, and PR companies are using the recent data explosion to break down established practices and bring people what they want—exactly when they want it," says Tony Perkins, founder and editor of AlwaysOn. "OnMedia 100 winners continue to open up new ways for consumers to connect with goods and services. Innovation in the digital media sector shows no sign of slowing down, and we predict even more growth and positive disruption coming during the next few years."
The OnMedia 100 winners were selected from among hundreds of other technology companies nominated by investors, bankers, journalists, and industry insiders. The AlwaysOn editorial team conducted an intensive three-month selection process to finalize the 2014 list.
"We are honored to have been selected as a 2014 OnMedia 100 Winner," says Dror Ginzberg, Chief Executive Officer of Wochit. "This year's winners are truly the most ingenious technologies and being included reinstates Wochit's vision of and dedication to transforming the video creation landscape."
The winners will be honored at AlwaysOn's OnMedia NYC event on September 15 at NASDAQ OMX in Times Square, New York City. The two-day executive event features CEO presentations and high-level debates on which forces are disrupting user behavior and creating new opportunities in the marketing, branding, advertising, and public relations industries.
Details about the OnMedia 100 program and the full list of winners are available at http://aonetwork.com/blogs/Announcing-the-2014-OnMedia-100-Top-Private-Companies.
About Wochit
Wochit is a revolution in short form video. The cloud based video creation platform enables brands, agencies, publishers and any storyteller to instantly react to any story and economically scale branded, studio-quality video production. Whether it's breaking news, branded or promotional messaging, or a personal story, within minutes, you have a ready-to-publish video for web, social and mobile. Winner of the Gutenberg Prize as a part of the Tribeca Disruptive Innovation Awards, for its disruptive technology in the field of journalism and backed by Cedar Fund, Greycroft Partners, Marker LLC and Redpoint Ventures. Wochit is based in New York with offices in London and Tel Aviv. Find out more at http://www.wochit.com.
Wochit Contact:
Lindsay Rapoport
+1 (212) 699 6496
lindsay(dot)rapoport(at)wochit.com
About AlwaysOn
AlwaysOn is the leading business media brand connecting and informing the entrepreneurial community in the Global Silicon Valley. Founded by Red Herring founding editor Tony Perkins in 2003, AlwaysOn's mission is to continue to lead the industry by empowering its readers, event participants, sponsors, bloggers, and advertisers like no other media brand.
# # #