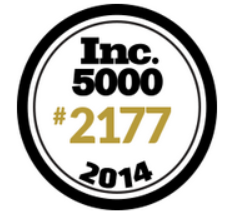 It is an honor to make the Inc. 500ǀ500 list and be among some of the fastest-growing companies.
Denver, CO (PRWEB) August 22, 2014
Inc. magazine ranked Richfield Hospitality NO. 2177 on its annual Inc. 500|5000 list, an exclusive ranking of the nation's fastest-growing private companies. This is the second year in a row Richfield Hospitality has made the list, with revenues growing from $4.4 million in 2010 to $12.6 million in 2013.
"It is an honor to make the Inc. 500ǀ500 list and be among some of the fastest-growing companies," said Will Loughran, president of Richfield Hospitality. "Richfield has been undergoing many changes in the last year, but our focus is always been providing exceptional hotel operations; which has helped support our continued growth pattern."
Richfield was also ranked 17 on the top 20 Travel & Hospitality Companies list. The company is poised to continue to grow within the industry, with a three year growth of 182%, while the travel and hospitality industry growth rate is averaging 82%.
Complete results of the Inc. 5000, including company profiles and an interactive database that can be sorted by industry, region, and other criteria, can be found at http://www.inc.com/inc5000/list, Richfield's company profile can be viewed at http://www.inc.com/profile/richfield-hospitality.
Methodology
The 2014 Inc. 500|5000 is ranked according to percentage revenue growth when comparing 2010 to 2013. The minimum revenue required for 2010 is $100,000; the minimum for 2013 is $2 million. As always, Inc. reserves the right to decline applicants for subjective reasons.
About Richfield Hospitality
Richfield Hospitality, Inc. is a leading hotel management company with a premier track record of maximizing profitability and improving asset values for hotel owners. From hotel operations and property management to electronic distribution and interactive marketing, Richfield achieves superior operating results through its strong commitment to guests, employees and owners. Based in Denver, Richfield is part of Hong Kong-listed City e-Solutions Limited, which is in turn a subsidiary of City Developments Limited, one of the world's largest real estate and hotel conglomerates with a market capitalization exceeding US$7 billion. Additional information about Richfield Hospitality may be found at the company's website http://www.richfield.com.
About Inc.
Founded in 1979 and acquired in 2005 by Mansueto Ventures, Inc. is the only major brand dedicated exclusively to owners and managers of growing private companies, with the aim to deliver real solutions for today's innovative company builders. For more information, visit http://www.inc.com.