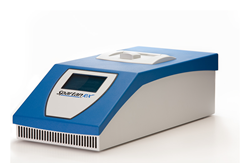 We are delighted that Charudutt Shah has joined our management team at Spartan Bioscience. - Paul Lem, M.D., CEO of Spartan Bioscience
Ottawa, Ontario (PRWEB) August 26, 2014
Spartan Bioscience today announced the appointment of Charudutt Shah as its Director of Business Development. Mr. Shah is responsible for expanding distribution of the Spartan RX CYP2C19 System in the United States and international markets. He is also responsible for new business opportunities and strategic initiatives for the company's rapid sample-to-result genotyping platform.
Prior to joining Spartan, Mr. Shah was the Global Marketing Product Manager for Infectious Disease products at Luminex. He established Luminex's international sales and distribution channels for molecular diagnostic products. Also, he was responsible for executing commercial strategies to achieve global sales targets. Prior to Luminex, Mr. Shah worked at Life Technologies and Toxikon Corporation.
"We are delighted that Charudutt Shah has joined our management team at Spartan Bioscience," said Paul Lem, M.D., CEO of Spartan Bioscience. "Charudutt has deep experience in the molecular diagnostic industry and he will have an immediate impact on our business development efforts."
About the Spartan RX CYP2C19 System
The Spartan RX CYP2C19 System is the first rapid pharmacogenetic test in medicine.(1) It identifies carriers of certain CYP2C19 genetic mutations in 1 hour. The CYP2C19 enzyme metabolizes approximately 15 percent of all prescribed drugs(2), including important drug classes such as antiplatelet therapies, beta blockers, antidepressants, proton pump inhibitors, and anti-epileptics. About 30% of Caucasians, and more than 50% of Asians and Indians carry CYP2C19 gene variants that reduce response to drugs metabolized by CYP2C19.(3,4,5,6)
The Spartan RX CYP2C19 System has FDA 510(k) regulatory clearance for the United States, and CE IVD Mark regulatory approval for Europe and other countries recognizing the CE IVD Mark. For more information, please visit our website at: http://www.spartanbio.com/products/spartan-rx/overview/.
About Spartan Bioscience
Spartan Bioscience is the leader in on-demand DNA testing. Spartan is bringing complete sample-to-result DNA testing systems to medicine. Spartan's technology fully integrates DNA collection, extraction, and analysis, with an intuitive interface that is easy to operate. For the first time, healthcare providers and their patients can get DNA results on demand. For more information, please visit our website at: http://www.spartanbio.com.
The Spartan logo is a registered trademark of Spartan Bioscience Inc.
1. Roberts JD et al. (2012). Lancet. 379:1705–11.
2. dbSNP Short Genetic Variations. Reference SNP (refSNP) Cluster Report: rs12248560
3. Damani SB, Topol EJ. (2010). J Am Coll Cardiol. 56:109–11.
4. Chen M et al. (2011). Atherosclerosis. 220(1):168–71.
5. Oh IY et al. (2012). Heart. 98(2):139–44.
6. Jose R et al. (2004). Fundamental & Clinical Pharmacology. 19(1): 101–105.