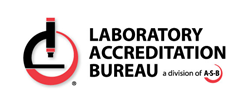 Fort Wayne, IN (PRWEB) August 23, 2014
Laboratory Accreditation Bureau (L-A-B), a division of Accreditation Services Bureau (A-S-B), is proud to announce it has been added to the list of U.S. laboratory accreditation bodies that are acceptable for use by domestic testing laboratories seeking NIST designation to foreign economies under the EMC/Telecom Mutual Recognition Agreements (MRA) for specific test methods/standards covered under the MRAs.
Accreditation Services Bureau, dba Laboratory Accreditation Bureau is now listed with the other acceptable U.S. accreditation bodies at the following NIST web site: L-A-B's Listing on NIST Website.
Once a U.S. laboratory is accredited by L-A-B for the specific tests methods/standards specified by an MRA partner, the laboratory can apply to NIST for designation. NIST has informed all MRA partner economies that L-A-B is now NIST listed.
L-A-B is an independent third party Accreditation Body whose mission is to Improve Testing and Calibration Laboratories worldwide. L-A-B is recognized by both NACLA (National Cooperation for Laboratory Accreditation, http://www.nacla.net and ILAC (International Laboratory Accreditation Cooperation, http://www.ilac.org in the fields of calibration and testing. L-A-B's website http://www.l-a-b.com is one of the web's most comprehensive resources for laboratories seeking Laboratory Accreditation.
Accreditation Services Bureau (A-S-B) is a nationally and internationally recognized, nongovernmental, independent, limited liability company. A-S-B operates a voluntary accreditation division (L-A-B) to accredit calibration and testing laboratories. L-A-B is utilized by regulators and specifiers for the delivery of ISO/IEC 17025 accreditation in conjunction with sector specific/regulatory requirements.
A-S-B's President R. Douglas Leonard Jr. in response to the NIST Listing stated: "As the fourth accreditation body to be listed, (three private and one government), L-A-B's accredited EMC/Telecom testing laboratories are now eligible to be seek recognition for specific foreign requirements. This listing is an honor and a result of many years of hard work by our dedicated professional staff and expert technical advisory group."