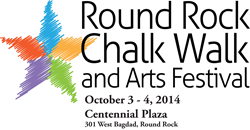 Fun for the entire family!
Round Rock, Texas (PRWEB) August 22, 2014
The Round Rock Chalk Walk Arts Festival is Round Rock's area largest and most prestigious festival for arts and cultural events drawing over 20,000 people annually to Round Rock during the first weekend in October. Chalk Walk and Arts Festival has thousands in attendance with numerous vendors, sponsors, and artists, including chalk artists, musicians vocal groups, theatrical performances, food and drinks, and children's performances.
The Round Rock Chalk Walk is a free festival. The goal is to provide a celebration of the arts and be crowned by its peers as one of the best festivals in the area. Chalk is the theme. Chalk Walk is the Round Rock Art's version of an Italian Street painting festival. Artists are free to create, with chalk pastels, a picture on the concrete. Drawings are created in full view of the public, who are encouraged to interact with the artists as they use their amazing talents to create beautiful "murals" before their audience's eyes. The fact that the paintings disappear at the end of the fest makes their beauty even more appealing.
This year's event will be October 3 – 4, 2014, and will be located in its new site, Centennial Plaza area and Brown Street!
Friday Night Highlights – Join the Friday night party "Blues, Brews and BBQ" – Featuring delicious barbeque and music by Round Rock's best entertainers and musicians.
The Biscuit Brothers will headline Saturday's activities. Chalk artists, local musicians, visual artists, crafters, food vendors, jugglers, trick dogs, mini horses, street performers and separate activity areas for adults and children are key features of this event.
Saturday Art Auction - Selected artists, school art programs & teachers, individuals and businesses create a work of art to be auctioned off for art program funding. Each item is judged and has a chance to win cash awards! Bidding starts at 6:00 PM on Saturday.
Key sponsors of the event include City of Round Rock, Community Impact, RBank, Jerry's Artarama, Snappy Snacks, Cordovan Art School, Ampersand, Texas Commission on the Arts, AAA Texas, Seton Medical Center - Williamson, Spirit 105.9, Atmos Energy, Wag-A-Bag, Williamson County Republican Party, The Home Depot, Corner Bakery, and Dell.
Proceeds from the event benefit visual and performing art programs in Round Rock.
Visit http://www.roundrockchalkwalk.com for more information or you can call 512-218-7099