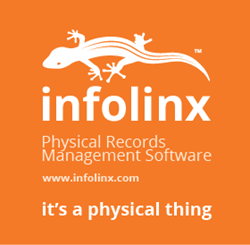 Kensington, MD (PRWEB) August 26, 2014
Infolinx System Solutions, a leading provider of enterprise physical records management software, announced the release of Infolinx WEB version 3.4.
Available in late September, this latest release includes deepened integrations with Microsoft® SharePoint®, Laserfiche® Records Manager, Kofax Capture and oneilBridge™, as well as improvements to the data presentation, reporting capability and application interface. Highlighted feature enhancements include a redesigned graphical Space Management module and the ability to Bulk Delete records.
"This release includes several enhancements facilitating improved data discovery for our clients in pursuit of information governance." said Tim Butler, Managing Director at Infolinx.
About Infolinx®
Infolinx System Solutions is a leading provider of DoD5015.2-certified enterprise physical records management software. Full life-cycle records management for archives, records centers, and file rooms includes integrated Enterprise Content Management, third-party warehouse integration, robust searching, online requesting, complete audit history, location reconciliation, supply item ordering, retention schedule and legal holds management, integrated RFID technology, space management with charge-back functionality, extensive reporting capability, advanced security configuration, workflow email notifications, and legacy data sharing. Available as an on-premises or cloud-based solution, Infolinx maintains clients within all major business segments and the public sector. Infolinx System Solutions Demo.