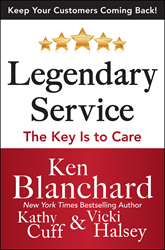 San Jose, CA (PRWEB) September 09, 2014
Most sellers know that service is an important aspect of the sales process. Keeping buyers happy is what will keep them picking up the phone to do business with a seller again and again. But what is the key to excellent service?
Vicki Halsey and Kathy Cuff are the co-authors of the book "Legendary Service," and they join CONNECT! Online Radio this Saturday for an authors' roundtable on how to become a legend in customer service. They will discuss their book, co-authored with sales guru Ken Blanchard, the ins and outs of internal and external customers, and how to empower your team with top-notch customer service. Halsey and Cuff are both senior members of the Ken Blanchard team, and have written many blogs and books of their own.
Your program host, Deb Calvert, will conduct the interview with Cuff and Halsey, incorporating questions submitted beforehand by listeners. The CONNECT! Online Radio Show for Selling Professionals is dedicated to helping sellers connect with buyers so they can cut out continuances, put an end to pending and stop stalling out.
The show was pre-recorded, but listeners are still invited to submit questions they might have for Calvert, Halsey or Cuff to deb(dot)calvert(at)peoplefirstps(dot)com, and to tune in on September 13 at 9 am Pacific. An archived version of this program will be available after it airs at the iTunes Store CONNECT1 or in the CONNECT! Archive.
CONNECT! Online Radio for Selling Professionals is sponsored by People First Productivity Solutions, a sales training firm dedicated to building organizational strength by putting people first. Deb Calvert, founder and president of PFPS, formed the CONNECT! Community to support sellers at all stages of their selling careers.