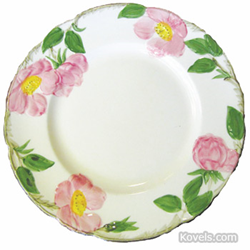 Cleveland, OH (PRWEB) August 26, 2014
The Kovels' Top 20 list is based on the results of hundreds of thousands of searches that took place on its website during July 2014. Collectors have been researching dinnerware of all kinds.
The Kovels' Top 20 list for July 2014: 1) Fenton, 2) Coca-Cola, 3) McCoy, 4) Depression Glass, 5) Bavaria, 6) Stoves, 7) Wedgwood, 8) Dinnerware, 9) Capo-Di-Monte, 10) Delft, 11) Hull, 12) Occupied Japan, 13) Red Wing, 14) Bottles, 15) Belleek, 16) Trunks, 17) Scales, 18) Satsuma, 19) Haeger, and 20) Pepsi Cola.
Antique and vintage dinnerware patterns fall into many categories—pottery, porcelain, ironstone and other ceramic wares, as well as categories for individual manufacturers and individual patterns. Here are some dinnerware patterns that were the most popular at one time and are in Top 20 categories this month.

McCoy (No. 3) made 13 dinnerware patterns. Brown Drip, introduced in 1969, is the most sought after.
Depression glass (No. 4) dinnerware—embossed clear and pastel colored glassware in matching sets—became popular in about 1925. Collectors look for Princess, Adam and Sweetheart in clear, light green and pink.
Wedgwood made lots of dinnerware, but Napoleon Ivy has been a favorite since it was first made (for Napoleon!) in the early 1800s. Desert Rose (1942), one of Franciscan's most sold dinnerware patterns of all time, has been made by Wedgwood since 1984. It's still being made by the WWRD (Wedgwood Waterford Royal Doulton) design group.
Hull's (No. 11) favorite House 'n Garden was made from the 1960s to 1985. Look for it in brown or tangerine with an ivory foam edge.
Red Wing's (No. 13) Bob White is a classic made from 1936 to 1967.
Belleek's (No. 15) Shamrock dinnerware with its basketweave pattern is a timeless design first made in the 1880s.
Haeger (No. 19) is better known for vases, figurines, lamps and other decorative ware, but made dinnerware from about 1965 to 1975. Country Classic is a mid-century favorite to look for.
Vintage dinnerware pieces are plentiful and turn up at flea markets, garage sales, thrift stores and online shops. Full sets are hard to find, but savvy collectors can inexpensively assemble sets that are useful and fun.
Collectors who go to Kovels.com can learn the identifying features, marks and prices of antiques and collectibles. Kovels.com and the book, "Kovels' Antiques and Collectibles Price Guide," list thousands of collectibles and dinnerware patterns in hundreds of categories that are described, edited, priced and pictured.
Terry Kovel is America's foremost authority on antiques and collectibles. She is the well-known columnist and author of more than 100 books on antiques and collecting. With her daughter, Kim Kovel, she co-authors the best-selling annual "Kovels Antiques and Collectibles Price Guide." Both Terry and Kim are collectors. They will discuss antiques and collectibles topics with accredited media. Photographs are available. Contact pr(at)kovels(dot)com.
About Kovels.com
Kovels.com, created by Terry Kovel and Kim Kovel, provides collectors and researchers with up-to-date and accurate information on antiques and collectibles. Kovels' Antiques was founded in 1953 by Terry Kovel and her late husband, Ralph. Since then, Kovels' has published some of America's most popular books and articles about antiques, including the best-selling "Kovels' Antiques and Collectibles Price Guide." The brand new 2015 edition is now available in bookstores and in the online shop at Kovels.com. Ralph and Terry were featured in three TV series about antiques and collectibles, The most recent was "Flea Market Finds with the Kovels" on the HGTV cable channel. The Kovels' website, online since 1998, offers 900,000 free prices and includes a free weekly email, "Kovels Komments." It give readers a bird's-eye view of the market through the latest news, auction reports, a Marks Dictionary, readers' questions with Kovels' answers and much more.
Contact Information:
Liz Lillis
216.752.2252