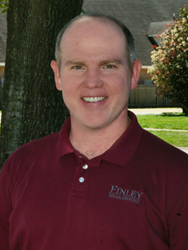 Lafayette, LA (PRWEB) August 21, 2014
Lafayette, LA periodontist, Dr. James M. Finley, offers his patients a highly innovative treatment for repairing receding gums. He first identifies and addresses gum recession causes and then, in qualifying cases, can use the Pinhole Surgical Technique™ to guide receded gum tissues gently back in place over the exposed root surfaces, restoring a beautiful and natural smile in less time and with minimal discomfort when compared to traditional methods of treatment.
The crown of a tooth has a hard enamel coating that protects the sensitive inner layer, but the roots are covered only by the gums. When gums begin to pull away from the roots, the tiny channels that lead to the nerves are exposed and cause pain whenever they come in contact with stimuli. There are many gum recession causes including brushing too hard, grinding your teeth, orthodontic treatment, genetically weak tissue, tobacco use, and periodontitis, or gum disease.
Of the numerous gum recession causes, gum disease is the most common. Disease causing bacteria reside beneath the gum line and produce toxins, which can cause the body to destroy the structures that support the teeth. Along with bone loss, this often results in recession of the gum tissues. When the gums recede, the root surfaces become exposed to the oral environment and are at an increased risk of decay and structural damage. Local residents should visit a Lafayette, LA periodontist at the first sign of receding gums or gum disease in order to prevent the damaging effects of both of these conditions.
Traditional treatments involve removing tissue from the roof of the mouth and suturing it to the areas that have receded to encourage new growth. Dr. Finley uses the revolutionary Pinhole Surgical Technique™ to repair recession by making a tiny opening near the recession site with a special tool, loosening gum tissue, and then gently guiding gums back in place. This new technique does not require sutures and utilizes synthetic collagen material to hold the tissue in place during the healing process. While grafting often takes weeks to heal, recovery time for this procedure is generally one to two days.
Dr. Finley's website offers additional information for patients seeking a Lafayette, LA periodontist who have receding gums and would like to learn more about the Pinhole Surgical Technique™ as an alternative to tissue grafts. Patients are also encouraged to call his office directly to schedule a personalized consultation.
About the Doctor:
Finley Periodontics is a periodontal practice offering personalized dental care for patients in Lafayette, LA. Dr. James M. Finley received his D.M.D from the University of Mississippi School of Dentistry and his certificate in Periodontics from Louisiana State University School of Dentistry. He went on to earn his M.S. in oral biology from Louisiana State University while serving as a full time assistant professor. Dr. Finley is part of one percent of dental professionals providing the LANAP® FDA cleared laser procedure for gum disease and periodontal treatment. To learn more about Finley Periodontics and their dental services, visit their website at http://www.finleyperio.com and call (337) 504-7263.