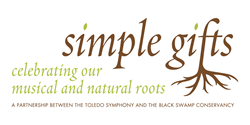 Each movement of this piece was inspired by places in Northwest Ohio.
Toledo, OH (PRWEB) August 22, 2014
The Toledo Symphony is pleased to announce the fifth and final concert in its Simple Gifts Concert Series, presented in collaboration with the Black Swamp Conservancy and Friends of Goll Homestead. This concert will take place September 7, 2014 at 3:30PM at the Goll Homestead northwest of Archbold. The Goll Homestead is a historic settlement in Fulton County.
Symphony musicians will be led by Guest Conductor Elim Chan, the Music Director of the Michigan Pops Orchestra and the University of Michigan Campus Philharmonia Orchestra, as they perform "Rigaudon" from Ravel's Tombeau du Couperin, Custer's The American Frontiere, Moore's Farm Journal, Aaron Copland's Simple Gifts and preview Evan Chambers's new work Four Sacred Places. Chambers, who is currently Professor of Composition at the University of Michigan, was commissioned by the Toledo Symphony with funding support from the National Endowment of the Arts to write Four Sacred Places for the symphony's Chamber Players.
In describing the Simple Gifts Project, Chambers says, "So much of our Earth has been torn up and turned into rectangular tracts of concrete. Few areas are left that embody a spontaneous flowering of earth, air, water, and light, of plant and animal lives in balance. A conservancy sets aside such parcels of land, dedicating them to the purpose of simply being what they are. A trust: a remnant of what was, a reminder of what should be." Of his piece he says, "Each movement of this piece was inspired by places in Northwest Ohio that have been set aside. None are utterly pristine wilderness, but instead signify our attempts to save and restore some of the native beauty and living ecology of the region."
In addition to the concert, there will be two 30 minute walking tours of the Goll Woods State Nature Preserve conducted by Ryan Schroeder the Manager of Goll Woods from the Ohio Department of Natural Resources. The Nature Preserve is located adjacent to Goll Homestead. Tours step off at 2:00 and 2:30. There will also be tours of the Homestead's Barn, built during the Civil War, from 2:15 to 3:15.
For Tickets
Although tickets are free, they must be reserved in advance through the Toledo Symphony box office at 1838 Parkwood Ave, Toledo (M-F 9-5) or by calling (419) 246-8000; by calling Sauder Village at (419) 446-2541; or Black Swamp Conservancy at (419) 872-5263.
Concert will be outdoors. Concert guests should bring their own chairs or blankets. In case of rain, concert will be moved to Founders' Hall at Sauder Village.
About the Project
Simple Gifts: Celebrating our Musical and Natural Roots is a collaborative project between the Toledo Symphony Orchestra (TSO) and Black Swamp Conservancy (Conservancy), a land trust dedicated to protecting agricultural land and natural areas in Northwest Ohio. The two organizations are partnering during a celebratory time to create awareness of the many musical and natural "gifts" in the region; in 2013, the Conservancy celebrated its 20th anniversary—the TSO celebrated its 70th.
Parking for this event is at Sauder Village. Shuttle buses will transport guests to the Goll Homestead site. There are a limited number of handicapped parking sites available at Goll Homestead; please contact Kris Jemmott at Sauder Village at 419-446-2541 for information on the handicapped parking spots.
Two shuttle buses will begin making loops from Sauder Village to Goll Homestead beginning at 1:45. The trip takes approximately 5 minutes. Buses will return people to Sauder Village as soon as the concert ends, at approximately 4:30.
About the Black Swamp Conservancy
Black Swamp Conservancy is a land trust dedicated to protecting agricultural land and natural areas, now and for future generations, through land conservation agreements. The conservancy does this to preserve the rural heritage, unique natural habitats, and lakes and streams of northwest Ohio.
By protecting the region's valuable land and water resources, the conservancy hopes to create healthier communities with strong, sustainable economies including agriculture and ecotourism.
As a nonprofit organization, Black Swamp Conservancy relies on the support of landowners, donors, and partnerships with other conservation organizations. The conservancy strives to be a wise investment for its supporters, whether they are giving their land, time or money.
For more information, visit http://www.blackswamp.org.
About the Friends of Goll Homestead
Friends of Goll Homestead, a 501c3 non-profit organization, has spearheaded the effort to preserve the home and barn located in Goll Woods State Nature Preserve. The Goll family built the home and barn during the Civil War and it remained in the Goll family until the property was sold to the State of Ohio in 1966 for the preservation of the virgin swamp forest, which is the last remaining vestige of the Great Black Swamp in northwest Ohio. In recognition of the old world building techniques used in construction of these buildings and the distinct cultural traditions of the Goll family, the property was added to the National Register of Historic Places in August 2005. For more information about Goll Homestead, please contact Kris Jemmott at (419) 446-2541.
Project Partners:
TSO & Black Swamp
Friends of Goll Homestead
Goll Woods State Nature Preserve (Ohio Dept. Natural Resources)
Sauder Village