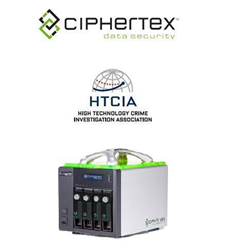 Los Angeles, CA (PRWEB) August 25, 2014
Ciphertex, a premier data security solutions provider that delivers secure, portable storage solutions to businesses, has announced they will attend the 2014 HTCIA International Conference & Training Expo in Austin, TX. Ciphertex will showcase their line of innovative data security solutions, including their single drives, NAS servers and RAID systems – equipped with AES 256-bit hardware encrypted. Law enforcement and government agencies rely on Ciphertex products to perform criminal and internal investigations efficiently with fewer resources and lower costs.
HTCIA attendees are encouraged to visit the Ciphertex booth for a chance to see the debut of the new CX-4K-NAS, a high-performance, portable, secure and rugged NAS server with the massive capacity – up to 32 TB coming soon. Attendees can also learn about the changing cyber security strategies from Ciphertex's President, Jerry Kaner. Kaner will address how professionals in various verticals are leveraging secure storage systems to achieve their security objectives. He will discuss the broad spectrum of Ciphertex solutions as well as reference case studies that demonstrate how digital investigation professionals utilize Ciphertex products to increase efficiency and simplify data transfer all while meeting the performance demands of their mission-critical workflow.
HTCIA International Conference & Training Expo will take place in Austin, TX from Monday, August 25 through Wednesday, August 27. The HTCIA Conference is the premier event for law enforcement and private industry professionals who investigate high technology crimes.
For more information on Ciphertex products or to make an appointment to see and discuss the features of Ciphertex data security solutions at the HTCIA event, please call 1-877-977-8878 or contact sales(at)ciphertex(dot)com.
About Ciphertex Data Security
Ciphertex is a leading provider of high performing, secure, portable and rugged data storage and security solutions. Ciphertex products use advanced hardware encryption, guaranteeing the highest level of data security and performance for the forensics, oil and gas, government, entertainment and healthcare markets. Ciphertex single drives, RAID systems, and NAS servers offer unparalleled performance, security and reliability – seamlessly integrating hardware based AES 256-bit encryption with the latest in storage technologies and smart design.
For more information about Ciphertex, please visit http://www.ciphertex.com.