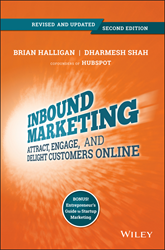 Hoboken, NJ (PRWEB) August 25, 2014
One of the biggest hurdles businesses face today is reaching their audience online. The proliferation of marketing clutter makes it more difficult than ever for businesses to capture buyers' attention. That's why the key to getting found online today is through inbound marketing tools like blogging, social media, SEO, and personalized websites. Attracting web traffic, engaging with prospects, and delighting customers, is how marketers can build lasting relationships that will grow their business.
With the revised and updated edition of Inbound Marketing: Attract, Engage, and Delight Customers Online (WILEY; August 2014; Hardcover & e-book; ISBN 978-1-118-89665-5; $20.00) Brian Halligan and Dharmesh Shah, co-founders of HubSpot, discuss their proven best practices for leveraging buyer behavior through search engines, blogging, and social media. Since its founding in 2006, HubSpot has successfully evangelized the "inbound marketing" movement through its own marketing strategy. According to CRMSearch, "HubSpot promotes a message of 'publish your way in' and practices what it preaches as a prolific creator of content".
With outbound marketing methods becoming increasingly ineffective, now is the time to embrace inbound marketing. Cold calling, e-mail blasts, and direct mail are turning consumers off to an ever-greater extent, thereby leading consumers to increasingly engage in online research to choose companies and products that meet their needs. Inbound Marketing recognizes these behavioral changes as opportunities, and explains how marketers can make the most of this shift online. Inbound Marketing, Revised and Updated includes new material such as the impact social media has on search, a high-level overview of what viral marketing actually is, and the criteria for hiring inbound marketers. Halligan and Shah help readers gain insight that can increase marketing value with topics like:

Inbound marketing – strategy, reputation, and tracking progress
Visibility – getting found, and why content matters
Converting customers – turning prospects into leads and leads into customers
Better decisions – picking people, agencies, and campaigns
Halligan and Shah contend that today, consumers are driving the conversation and have a variety of options available when it comes to buying products and services. It is vital for businesses to stop pushing customers away with interruptive tactics and start pulling them in. Inbound Marketing, Revised and Updated is filled with the nitty gritty information businesses need to get found today.
About the Authors
BRIAN HALLIGAN is co-founder and CEO of HubSpot, Inc. Since founding HubSpot in 2006, Brian has led the company to reach over 10,000 customers in 56 countries with inbound marketing and sales software. He is author of Marketing Lessons From the Grateful Dead,and co-author of Inbound Marketing: Get Found Using Google, Social Media, and Blogs, and Inbound Marketing: Attract, Engage, and Delight Customers Online. Brian was named one of Glassdoor's Highest Rated CEO's of 2014, and the Ernst & Young Entrepreneur Of The Year in 2011. He received his MBA at MIT's Sloan School of Management and is a Senior Lecturer at MIT where he teaches 15.S16 Entrepreneurial Product Development and Marketing.
DHARMESH SHAH is co-founder and CTO of HubSpot. In addition to co-authoring Inbound Marketing: Get Found Using Google, Social Media, and Blogs, and Inbound Marketing: Attract, Engage, and Delight Customers Online, Dharmesh authors OnStartups.com, a top-ranking startup blog with over 350,000 members in its online community. In 2013, Dharmesh published HubSpot's Culture Code which has garnered over 1 million views on SlideShare. He is an active member of the Boston area entrepreneurial community, an angel investor in over 40 startups, and a frequent speaker on the topic of startups and inbound marketing. Dharmesh holds a BS in Computer Science from UAB and an MS in the Management of Technology from MIT.
If you are interested in an interview with the authors or would like more information, please contact Sadhika Salariya, Publicist – WILEY, 201-748-6782.