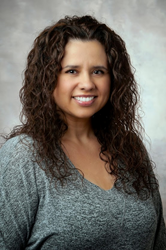 It is paramount that she be an ambassador who carries our banner that lets our customers know we are here for them.
Seattle, Washington (PRWEB) August 26, 2014
Sound Telecom, a leading nationwide provider of telephone answering services, call center solutions, and cloud-based business communication systems, has brought Rita Torres on-board as their new AR Collections/Credit Agent. A position such as hers demands that Rita must walk a fine line between having a tenacious attitude when gathering fees and still providing a pleasant customer experience. Her main responsibility will be to collect money from overdue accounts while maintaining a customer-centric approach identical to every other department at Sound Telecom.
In order to be successful in her position, her manager, Derrec Williams, says Torres must: be organized, utilize good communication skills, be a self-starter, have the ability to be a goodwill ambassador, constantly be focused on customer service, and always try to keep things in a positive light. She will be working closely with Williams to ensure she is up-to-speed on client profiles and maintaining a good rapport with those accounts.
When asked about what convinced him that Torres was the right fit for the position, Williams related that, "She came across as a friendly, quick thinker that had relatable experience to bring to the table. I liked her follow-up tactics and her 'kill 'em with kindness' approach when it comes to collections."
Sydney Diamond, CFO of Sound Telecom, says that Rita's position can be a tricky one. Diamond stated that, "It is one that is constantly interacting with customers. And while it is often required to harness a tactful blend of perseverance and tenacity, Rita must also champion our philosophy of putting the customer first. It is paramount that she be an ambassador who carries our banner that lets our customers know we are here for them."
Torres knows the balancing act she must enact well, due to her 20 years of collective experience in customer service and accounts payable positions that she brings with her to the Sound Telecom team. Torres was asked to identify her main goals for the position and illustrate how she will execute those goals. She responded that, "My goal is to ensure that we have good contact information for collecting monies owed on accounts. My focus is to work diligently to contribute to a low A/R again balance at the end of each month. I plan to use a pleasant version of 'the squeaky wheel gets the grease' collecting method."
Rita spent her childhood traveling the world as a Navy 'brat' but has been calling Seattle her home since 1995. Her key responsibilities include credit reviews, customer account alterations, customer service and ensuring monies are received from current accounts. She earned her Associates degree in 1993 when she studied Marketing at Brooks College in Long Beach, California. Rita is passionate about her family, friendships and making new connections. In her free time, she enjoys being a social butterfly and embraces the opportunity to help others wherever she goes.
About Sound Telecom
Since 1986, Sound Telecom is a leading provider of 24-hour telephone answering, call center, and cloud-based communication services, professionally serving thousands of customers throughout the United States and Canada with USA based agents to help them improve customer service and grow their businesses. For more information, please visit http://www.sound-tele.com.
Contact Information
Sound Telecom
Andrew Tillery, Marketing Director
800-577-1550
http://www.sound-tele.com