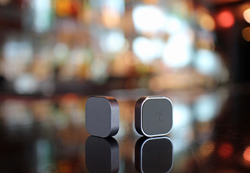 Chicago, IL (PRWEB) August 22, 2014
A new Kickstarter project Bungajungle introduced 2 new mounts for mobile devices that are simultaneously magnetic and non-magnetic. Bungajungle's Neutron products straddles the border surrounding the mysterious nature of the magnetic field. Their patent pending technology allows the magnets to do the work expected from a magnetic mount, holding the mobile device with great strength. But with the worry that magnets could affect devices like the compass or other sensors, Bungajungle has created a magnetic shielding. The Bungajungle Neutron line is shielded in a way that prevents the magnetic field from entering into the devices, making it both safe and effective.
The all new Neutron A is also smart, available with an embedded NFC chip. This can automate apps or features on a smartphone by simply bringing it near the the Neutron mount. Imagine if a user is in a bad mood and they don't think of turning on the music when they get inside their car. But now, just by bringing their smartphone to the mount they can have the music start automatically, which may change their mood. Or they can have their GPS start automatically.
The Neutron mounting mechanism offers quick attachment and detachment and works with nearly any phone or tablet, whether in it's case or not. The magnets offer precision mounting to metal surfaces or to any nonmetal surface using the supplied 3M VHB tape. Neutron S comes in ultra modern Deep Space Grey or bead blasted silver anodized aluminum, which coordinates nicely with today's top Apple, Android and Windows phones and tablets.
Its slim attachment disc, which has the size and dimensions of a dime, goes on the backside of a mobile device. The disk is not magnetic, so the user will not run the risk of wiping out their credit cards if they wind up in their pocket alongside their phone.
Bungajungle has been successful, passing their $10000 goal within 3 hours and doubled their goal in less than 24 hrs. The campaign has raised over $23,000 to date and is increasing. The Neutron S is not the first Kickstarter campaign for Bungajungle founder Ananda Svarupa Das. In addition to offering unique products, the company seems to be doing something right in the customer service arena, as many happy backers are returning to back this project.
Pledges start at $25 for the Neutron A or 2 Neutron S's, along with accessories, and shipping to Kickstarter backers is expected to take place in October.
Neutron A will be useful to anyone looking for a hands-free car mount or Neutron S mount that can go virtually anywhere. There are other magnetic mounts and holders on the market, but the Neutron A and S are considerably smaller, more attractive, and are the only non-magnetic magnet mounts around.
The project can be seen live on kickstarter: http://kck.st/VFvY6l.
For high res images: https://www.dropbox.com/sh/j920roqobecougb/AAA-ALBwgeC7b-sa9vtnHDjda.