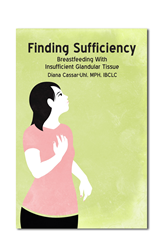 The emotional cost of breastfeeding with IGT is often as complicated (or even more so) as the logistical obstacles.
Amarillo, Texas (PRWEB) August 26, 2014
August is celebrated as National Breastfeeding Month, making it a time when news and social media outlets are flooded with breastfeeding stories. Ranging from articles touting the benefits of breastfeeding, to headlines announcing celebrations for mothers and babies. There is a small percentage of mothers for whom breastfeeding, either exclusively or at all, is not possible. Praeclarus Press hopes that these mothers find the information they need in author Diana Cassar-Uhl's new book, Finding Sufficiency: Breastfeeding With Insufficient Glandular Tissue. Finding Sufficiency examines the most recent scientific findings on the topic. Cassar-Uhl couples the research with her experience as an International Board Certified Lactation Consultant (IBCLC) who knows first-hand the emotional burden it can present for mothers and families. Praeclarus Press is pleased to bring mothers and healthcare providers the latest information on this important topic.
Insufficient Glandular Tissue (IGT) is a condition still largely under-researched and misunderstood by practitioners who work with mothers during the perinatal period. As a result women who experience breastfeeding problems due to IGT also struggle to find support, both clinical and emotional, in dealing with them. Finding Sufficiency aims to inform and support the efforts of breastfeeding mothers with low milk production due to insufficient glandular tissue from both a scientific standpoint and an emotional one. It also addresses the unique decisions and feelings that may be faced by someone who fully intended to breastfeed but felt betrayed by her body. Lastly, it provides guidance for practitioners who seek to understand this condition and support their patients/clients who are dealing with the condition.
Diana Cassar-Uhl, MPH, IBCLC, has supported breastfeeding families and healthcare professionals since 2005 as a La Leche League Leader, IBCLC, breastfeeding educator, and researcher. Though her academic and career pursuits keep her around Washington, DC, Diana's home is in upstate New York, with her husband and three children.
Praeclarus Press is a small press specializing in women's health located in Amarillo, Texas. It was founded by health psychologist, Kathleen Kendall-Tackett, Ph.D., IBCLC, FAPA, and produces books, webinars, and other materials on all aspects of women's health. The mission of Praeclarus Press is to produce materials that change women's lives.