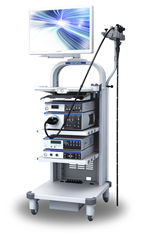 We are taking the next step in technological advancements at Florida Hospital Zephyrhills with the acquisition of the Olympus Endoalpha surgical endoscopy video system.
(PRWEB) August 21, 2014
Florida Hospital Zephyrhills is the first hospital in Pasco County and one of the only in the Tampa Bay area to offer a fully-integrated HD operating room using the Olympus Endoalpha Universal Platform for surgical endoscopy. The technology works across all surgical and GI endoscopic specialties, and provides the hospital a standardized solution for surgical endoscopy procedures that improves operational efficiencies and patient care. Surgical endoscopy systems, through the collaborative use of a video processor, light source, laparoscope and monitor, enable surgeons to peer inside the human body to diagnose, detect and treat a range of diseases and conditions. The advanced imaging system will assist Florida Hospital Zephyrhills' surgeons in performing laparoscopic surgery on a universal platform that supports more than 100 different rigid, flexible and articulating endoscopes as well as camera heads used in a broad range of specialties.
"We are taking the next step in technological advancements at Florida Hospital Zephyrhills with the acquisition of the Olympus Endoalpha surgical endoscopy video system. This system will help us improve the efficiency of our operation, enhance our diagnostic capabilities, and foremost, deliver world-class care to our patients. With this advanced technology, our goal is to provide our patients with more accuracy when it comes to diagnosis, shorter surgery times and improve the overall patient experience," says Randy Surber, President and CEO of Florida Hospital Zephyrhills.
Laparoscopy is performed through small incisions made in the abdomen or pelvis. A laparoscope with a miniature camera built into its tip allows the surgeon to view the surgery site during an operation. Laparoscopy has become increasingly common in hospitals, with about 2.8 million procedures (laparoscopic, single site and robotic-assisted surgeries) performed in the United States in 2013 with a forecasted compound annual growth rate of 3.1%. Compared to open surgery, a laparoscopic approach offers reduced pain for the patient, less hemorrhaging, shorter recovery times and better cosmetic results, all due to the smaller incision sites.
The Olympus Endoalpha system delivers enhanced image quality, improved brightness and several key technologies, such as HDTV for superior clarity; next-generation Narrow Band Imaging for enhanced observation of mucosal tissue; and focus-free and fog-free functions for crisp and clear images.
The platform is also designed into Olympus' Systems Integration. Custom-placed displays help ensure team members always have an optimal view of live HD images. Going beyond the operating room (OR), the Olympus' Systems Integration creates a fully integrated video network that allows sharing and collaboration between OR's, lecture halls, doctors' offices, and even other hospitals. By acquiring the new Olympus Endoalpha surgical endoscopy video system, Florida Hospital Zephyrhills is able to further its commitment to providing premier care for its patients.
About Florida Hospital Zephyrhills
Florida Hospital Zephyrhills is a 139-bed regional medical center located in East Pasco County. It is a member of the Florida Hospital network of Adventist Health System, one of the largest health care providers in the state of Florida. Florida Hospital Zephyrhills has been nationally recognized by the American Heart Association, the American Stroke Association, The Joint Commission, The Leapfrog Group, and HealthGrades for excellence in providing top quality patient care with special emphasis on safety and patient outcomes. The award-winning Heart Institute has received recognition in the treatment of coronary intervention, heart failure, chest pain, open heart surgery, and electrophysiology procedures. The hospital offers a full range of inpatient and outpatient surgical offerings, including orthopedic services such as hip and knee replacement and advanced MAKOplasty® robotic partial knee and total hip replacement. The newly renovated Women's Health Center offers comprehensive services for women including gynecology, urology and pelvic floor health, labor and delivery through The Baby Place®, and breast care through the Simpson Breast Health Center. The hospital also offers 24/7 emergency services including a "fast track" option, imaging services, the Center for Wound Healing, and the Sleep Center. Visit http://www.FloridaHospital.com/Zephyrhills for more information.
About Olympus Medical Systems Group
Olympus Medical Systems Group, a division of global technology leader Olympus, develops solutions for healthcare professionals that help improve clinical outcomes, reduce overall costs and enhance quality of life for patients. By enabling less invasive procedures, innovative diagnostic and therapeutic endoscopy, and early stage lung cancer evaluation and treatments, Olympus is transforming the future of healthcare. For more information, visit Olympus at http://www.medical.olympusamerica.com.