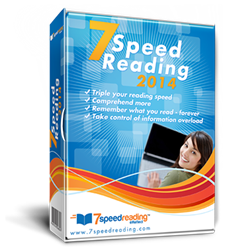 Reading makes people wiser, more empathetic, and more proactive.
New York City, NY (PRWEB) August 26, 2014
eReflect, developer of 7 Speed Reading™, revealed today that Warren Buffet's principles for success are proven methods and that there are compelling reasons people should try and implement them in their lives. Reading is perhaps the most vital component of true, sustainable success, eReflect asserts, pointing to Buffet's statement, "I just sit in my office and read all day."
Buffet's advice to young people looking to their future, and to anyone with aspirations to succeed, is to read voraciously. When reading becomes a habit, both the immediate and long-term benefits of reading become evident in numerous ways. Reading makes people wiser, more empathetic, and more proactive. It gives them new tools for thinking, acting, and being, and ensures they can protect themselves from risks and dangers in life. At the same time, reading gives people key ideas and concepts to work with, at the professional level and personal level alike.
Reading's importance in personal success is something that many people can attest to. However, there are often obstacles in the road to success that are tied to reading difficulties. For example, notes eReflect's representative, a person's habit of subvocalization (reading while moving lips and mouth) can severely compromise their reading efficiency and even discourage them enough to give up reading entirely. eReflect advises people to look into speed reading techniques, as they can help people get rid of counterproductive reading habits such as subvocalization, regression, and limited eye fixation. By improving these reading habits people will be able to read at a much more efficient speed.
eReflect, a fervent proponent of personal success, has been offering self-improvement solutions for many years, highlighting the importance of expert-designed programs in helping people efficiently and effectively reach their full potential for personal growth.
7 Speed Reading™ gives people better comprehension skills and makes them faster readers. This increased speed it makes it possible for people to read more books per year and dramatically accelerate their progress.
Reading is a habit people need to consciously choose. The more a person reads, the more power they will gain over their own life and options at home, at school, and at work. As Warren Buffet's story confirms, reading can become the key to success. Faster reading can simply make this happen earlier.
************
For more information about the benefits of using 7 Speed Reading, please visit the official website at http://www.7speedreading.com.
About 7 Speed Reading™
7 Speed Reading is the only modern speed reading software that uses the latest technology to produce superior results.
The software provides its users with a new way to master speed reading that guarantees three times the reading speed along with improved memory and comprehension.
The software is poised as the most comprehensive speed reading system anywhere. It contains seven learning strategies, fifteen software activities, video training, advanced tracking capabilities and many more exciting features.