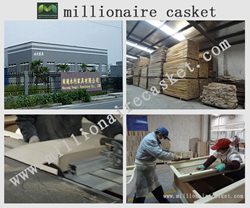 (PRWEB) August 22, 2014
Today, MillionaireCasket.com, a leading casket manufactory in China, announced that all of its cherry caskets will be on sale at low price in the coming week. They are all high quality products.
There are different requirements for caskets from different customers from different countries. In recent years, Millionaire Casket has designed many kinds of caskets that have various interior and exterior structure and decoration to meet diverse needs, such as metal caskets, veneer caskets, wood caskets, cremation caskets, orthodox caskets, rental caskets and many others.
At the moment, the supplier is selling a lot of high quality caskets. Additionally, it is now working hard to make more excellent items for worldwide clients. MillionaireCasket.com has its own designer team. Therefore, it can always provide the best caskets. Its top experts often communicate with industry leaders and share opinions with frequent callers.
In addition to cherry caskets, MillionaireCasket.com has hundreds of other items for sale. Its cheap products include 18 gauge metal caskets, mahogany caskets, pecan caskets, pine caskets and more. Each of its high quality products comes with a low shipping fee. Thousands of the international distributors have established cooperative relationship with this reliable supplier.
About MillionaireCasket.com
MillionaireCasket.com is a leading casket company that focuses on the business of casket wholesale. This company offers an exquisitely crafted line of all kinds of metal caskets, solid wood caskets, veneer caskets, cremation caskets, rental caskets, orthodox caskets, infant or over-sized caskets and European style coffins. The standard quality control policy is strictly applied here, and a third party quality assurance is also available.
More information can be found at http://www.millionairecasket.com/69-cherry-caskets.