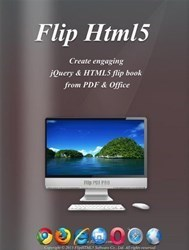 (PRWEB) August 25, 2014
The entire team at Flip HTML5 is thrilled to announce the newest version of the HTML5 catalog publishing software. The digital catalog software that PC World said, "will be one of the most popular publishing platforms in the future" is now better than ever.
The Flip HTML5 software has been upgraded across the board, with Windows, Mac and Online versions of the software getting new features. Improvements allow more flexibility for users, proffer some great mobile options, and remove restrictions that users previously faced.
For Windows users of Flip HTML5, the ability to get more creative and detailed with their projects has been added in the form of an advanced event editor. When creating an animation event, the user now has the ability to customize and edit that animation to create the exact look they're looking for. A Page Manager has also been added so that the user can easily reorder, delete or add new pages from the Animation Editor.
Mac users will benefit from the added venture into mobile. The smooth integration of the Mac desktop platforms and iOS is something that the team at Flip HTML5 wanted to take advantage of. Users can now create flip books which can be downloaded into the FlipHTML5 reader app for iPad and then read offline.
Finally, online users will get the chance to really see the power of the software before they have to sign up for an account. A new user can upload a PDF, publish and check out their final product before ever having to sign up for an account.
For more information about the product lineup of Flip HTML5 digital publishing platform, visit http://fliphtml5.com/.