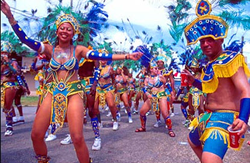 It's another one of those unique, 'only in Belize' events, and something we look forward to having our guests experience.
San Ignacio, Belize (PRWEB) August 24, 2014
Preparations have begun in earnest for the August 31st official opening of Belize's annual September celebrations, with The Lodge at Chaa Creek predicting that this year's festivities will be the biggest yet.
September celebrations commemorate the 1798 Battle of St George's Caye on September 10th, and Belize achieving independence from Great Britain on September 21, 1981.
According to Bryony Fleming Bradley, Chaa Creek's spa manager and assistant GM, Belize's September Celebrations continue to grow in size and sophistication. "We opened Chaa Creek to guests the same month that Belize became independent, September 1981, so we celebrate two birthdays next month – Belize and Chaa Creek's," she said.
Ms Fleming Bradley explained that the September celebrations are considered to be the start of Belize's long end-of-year holiday season, which takes in Pan America Day, formerly celebrated as Columbus Day, October 13, and Garifuna Settlement Day on November 19, culminating in Christmas and Boxing Day in the lead up to New Year's.
In addition to those bank holidays, Halloween and Thanksgiving are also widely observed in Belize, she said.
"It's the time of year when Belize really comes alive, inland, on the Caribbean coast and out on the cayes. Because of our proximity to the US and Canada, having English as the official language and a currency pegged to the US dollar, more and more people are coming to Belize as a familiar, easy and comfortable place to spend their traditional holidays," Ms Fleming Bradley said.
"And, as word of mouth spreads about how much fun the September celebrations are, we're seeing more people coming down to take part in those uniquely Belizean holidays," she added.
St George's Caye Day is the national commemoration of a 1798 battle that marked the turning point of the early Spanish/British Honduras conflict and is considered to be the defining moment in Belizean statehood. On September 10, 1798, settlers and slaves from the nascent British settlement of what would become British Honduras met and repelled a much larger Spanish invasion force near St George's Caye, a tiny island off the coast of present day Belize City.
The successful battle was the beginning of the long road to independence, which Belize finally achieved on September 21, 1981, some years after the former British crown colony was granted self-rule.
Today, Belize is a member of the Commonwealth and enjoys a vibrant democracy, with the patriotic September holidays celebrated enthusiastically across the country.
This year's September Celebrations mark the 33rd anniversary of Belizean independence and 216 years since the Battle of St. George's Caye with the theme; "Industrious Hands, Intelligent Minds, Together for Belize."
September celebration preparations officially kicked off on Saturday, August 9, with the National Song Competition Final. The official opening ceremonies will commence August 31 on St. George's Caye, followed by the Expo Belize fair on the first weekend of September and Carnival on the weekend after that. The official ceremonies for St. George's Caye Day take place on Wednesday, September 10 in Belize City and for Independence Day on Sunday, September 21 in the national capital of Belmopan.
"The momentum is already building for the big nationwide party on the 21st of September, as well as our own birthday party, and while tranquility always reigns at Chaa Creek, there is something special in the air. We provide our guests with many ways to get out and enjoy the celebrations, with regular transport from the lodge and options such as taking a canoe trip into San Ignacio town or a short flight to the coast and Ambergris Caye.
"We like to give guests the options of taking part in the celebrations as well as enjoying the peace and quiet of Chaa Creek's nature reserve.
"All things considered, it promises to be a very special September in Belize this year. Given Belize's colourful history and multicultural makeup, it's another one of those unique, 'only in Belize' events, and something we look forward to having our guests experience," she said.
The Lodge at Chaa Creek is an award winning eco resort set within a 365 acre private nature reserve in Belize.