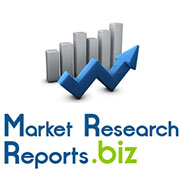 "7 km sqr/year of metal oxide backplanes will be used in 2024 in OLED displays"
Albany, NY (PRWEB) August 22, 2014
Metal oxide display backplanes have already gone commercial. Sharp has invested in establishing a Gen8 IGZO plant at its Kameyama plant in Japan while LG has also selected IGZO backplanes for its large-sized white OLED technology. At the same time, Chinese companies such as BOE are fast playing catch up with both prototype and production capacity announcements.
View Full Report at http://www.marketresearchreports.biz/analysis/218802
IDTechEx estimates that 7 km sqr of metal oxide backplanes will be used in the OLED industry in 2024, enabling a 16 billion USD market at the display module level. The LCD display market will add an extra demand of at least 1 km sqr per year in 2024 for metal oxide backplanes.
The display industry continues to rapidly change and seek new markets. Long term trends are still prevalent and shape global activity. Examples include reducing power consumption, improving image resolution, and decreasing device thickness. At the same, the need to differentiate and capture new markets such as wearable electronics is first bringing in robust and then flexible and bendable displays. These trends will drastically affect the technology requirements at many levels including the backplane level. This will stretch several existing solutions beyond likely performance limits, thereby creating openings and opportunities for new entrants and The technology space for backplanes is complex. It consists of (a) mature technologies such as amorphous and polycrystalline silicon, (b) emerging technologies such as organic and metal oxides and (c) early state technologies such as graphene, carbon nanotubes, nanowires, etc. No single technology offers a one-size-fits-all solution and many technologies will co-exist in the market. Betting on the right technology will remain a decision-making nightmare.
Download Detail Report With Complete TOC at http://www.marketresearchreports.biz/sample/sample/218802
It is within this emerging within this complex yet changing space that metal oxide are emerging. They promise low leakage currents, high mobility, amorphousity, stability and wide bandgap. These attributes promise to enable, respectively, power consumption reduction, compatibility with current-driven OLEDs and/or 3D displays, image uniformity over large areas, long lifetime and transparency.
In the short term, this will help enable higher resolution and lower power consumption levels in displays including LCDs (particularly in medium- to large-sized displays); while in the medium- to long-term metal oxides will help enable uniform medium- to large-sized OLED displays.
1. Ten-year market forecasts by market share, area coverage and market value (at module level) for LTPS, organics, a-Si, and metal oxides in
OLED mobile phones
OLED notebooks/tablets
OLED TV OLED wearable devices
OLEDs in automotive and aerospace sectors
2. Ten year market forecasts for metal oxide backplanes in the LCD industry
3. Technology assessment, benchmarking and trending: IDTechEx provides detailed technology assessment and benchmarking of metal oxides and all other rival TFT technologies including organics, silicon (amorphous, nanocrystalline and polycrystalline), graphene, and carbon nanotubes.
4. Driver and trends: IDTechEx will identify and assess are macro level drivers and trends and will discuss how they will impact the industry as a whole and metal oxide backplanes in particular.
5. Company profiles
Popular Reports -
LED Lighting: Market Shares, Strategies, And Forecasts, Worldwide, 2013 To 2019
View Full Report at http://www.marketresearchreports.biz/analysis/176103
Sales of LEDs that outpace incandescent bulbs in North America are expected to soon completely eliminate incandescent bulbs. The LED lighting market is anticipated to grow 45% per year through 2019. The LED lighting market at $4.8 billion in 2012 is anticipated to go to $42 billion by 2019. The reason is the declining price points, the increased interest by the channel in pushing LEDs to consumers. LEDs provide the best lighting solution. The phase out of incandescent lights has begun, the onset of LED command of the market is upon us.
Download Detail Report With Complete TOC at http://www.marketresearchreports.biz/sample/sample/176103
This LED lighting shipment analysis is based on consideration of the metrics for the total number of lights shipped with a likely penetration analysis. Interviews with distributors, vendors, and users provide means for triangulation of data to achieve an accurate look at the market. Interviews include contact with distributors and analysts worldwide.
OLED Display Forecasts 2014-2024: The Rise Of Plastic And Flexible Displays
View Full Report at http://www.marketresearchreports.biz/analysis/212853
OLED displays are thinner, lighter, and offer better color performances compared to backlit liquid crystal displays (LCD). OLED displays are already mass produced for mobile phones and OLED will continue gaining market share against LCD technology.The next evolution is plastic displays and flexible displays. IDTechEx expects the first flagship phone with a flexible display to ship in 2017. Based on this scenario, the market for plastic and flexible AMOLED displays will rise to $16bn by 2020.
Download Detail Report With Complete TOC at http://www.marketresearchreports.biz/sample/sample/212853
Glass-based displays will remain an important technology, especially in TV applications where scale-up and cost reduction are still big challenges. Flat and curved OLED TVs were recently launched by Samsung and LG. While the market for OLED TV panels will be relatively small in 2014, it will experience strong growth in the next ten years, with a projected 42% CAGR.
Printed, Organic & Flexible Electronics Forecasts, Players & Opportunities 2014-2024
View Full Report at http://www.marketresearchreports.biz/analysis/217356
The report specifically addresses the big picture - including OLED displays and lighting, to thin film photovoltaics to flexible sensors and much more. Importantly, it includes not only electronics which are printed, organic and/or flexible now, but it also covers those that will be. Realistic timescales, case studies, existing products and the emergence of new products are given, as are impediments and opportunities for the years to come.
Download Detail Report With Complete TOC at http://www.marketresearchreports.biz/sample/sample/217356
Over 3,000 organizations are pursuing printed, organic, flexible electronics, including printing, electronics, materials and packaging companies. While some of these technologies are in use now - indeed there are three sectors which have created billion dollar markets - others are commercially embryonic.
About Us
Marketresearchreports.biz is the most comprehensive collection of market research reports. Marketresearchreports.biz services are especially designed to save time and money of our clients. We are a one stop solution for all your research needs, our main offerings are syndicated research reports, custom research, subscription access and consulting services. We serve all sizes and types of companies spanning across various industries.
Browse Blog at http://todaysmarketplace.blogspot.com/