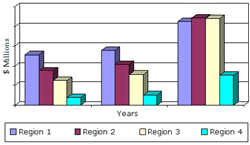 Global Market for Multi-Touch Technology to Reach $7.3 Billion in 2018
Wellesley, Mass., (PRWEB) August 22, 2014
BCC Research (http://www.bccresearch.com) reveals in its new report, MULTI-TOUCH SCREEN TECHNOLOGY, APPLICATIONS, AND GLOBAL MARKETS, the global market for multi-touch screen technology is expected to grow to $7.3 billion by 2018, with a five-year compound annual growth rate (CAGR) of 16%. The Asia-Pacific region is the fastest growing segment in this market, surging at a tremendous 23.1% CAGR.
Multi-touch interface technology is redefining the way consumers interact with machines and is quickly replacing keypads in personal-computing products such as smartphones and tablets. Indeed, vending machines, home appliances, vehicle control consoles, and industrial instruments increasingly feature a touch screen.
North America claims a substantial 34% of today's global market for multi-touch technologies and is expected to grow to $2.1 billion by 2018 at a CAGR of 8.6%.
However, due to an improving global economy and a shift in manufacturing, the market is quickly moving toward the Asia-Pacific region, which was valued at just $781 million in 2013 and is expected to jump to $2.2 billion in 2018.
"With the introduction of the latest generation of smart phones, the multi-touch industry is surging," says BCC Research semiconductor market analyst Mayank Jain. "Multi-touch penetration is expected to increase dramatically in convertible/hybrid notebook PCs and over the next few years, all-in-one PCs and automobile monitors are anticipated to contribute to touch screen market growth as well. In addition, touch technologies with high transmittance, low power consumption, multi-touch or gesture recognition will benefit the most."
Significant growth in this market will be driven by technological advances, particularly in the areas of smartphones and tablets; cost-reductions; and rising consumer demand.
MULTI-TOUCH SCREEN TECHNOLOGY, APPLICATIONS, AND GLOBAL MARKETS provides an overview of the global markets multi-touch screen technologies and related applications. It includes analyses of global market trends, with data from 2012 and 2013, projections of CAGRs through 2018, and profiles of companies important in the industry.
Editors and reporters who wish to speak with the analyst should contact Steven Cumming at steven.cumming(at)bccresearch(dot)com.
About BCC Research
BCC Research publishes market research reports that make organizations worldwide more profitable with intelligence that drives smart business decisions. These reports cover today's major industrial and technology sectors, including emerging markets. For more than 40 years, we have helped customers identify new market opportunities with accurate and reliable data and insight, including market sizing, forecasting, industry overviews, and identification of significant trends and key competitors. We partner with analysts who are experts in specific areas of industry and technology, providing unbiased measurements and assessments of global markets. Our clients include the top companies in industries around the world as well as universities, business schools, start-ups, consulting firms and investment companies. BCC Research is a unit of Eli Research LLC. Visit our website at http://www.bccresearch.com. Contact us: (+1) 781-489-7301 (U.S. Eastern time), or email information(at)bccresearch(dot)com.
Data and analysis extracted from this press release must be accompanied by a statement identifying BCC Research LLC, 49-2 Walnut Park, Wellesley, MA 02481, Telephone: (+1) 781-489-7301; Email: editor(at)bccresearch(dot)com as the source and publisher. Thank you.