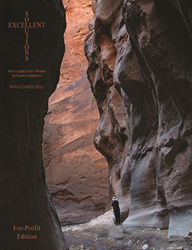 Weston, MA (PRWEB) August 26, 2014
Devout Christian, entrepreneur, and author Donald Mitchell has two important manuals to ensure optimal business growth—the Holy Bible and Excellent Solutions (For-Profit Edition). Also the founder of the Christian initiative The 400 Year Project, Donald Mitchell demonstrates the key to corporate success is adding Godly benefits and supplying society's most important needs.
Excellent Solutions: How to Apply God's Wisdom for Greater Fruitfulness (For-Profit Edition) introduces two important methods contained in 52 lessons for how a business organization can achieve its full potential by utilizing God's wisdom.
Such success begins at the individual level, as the author states, "Excellent Solutions starts by explaining what an excellent solution is and increasing your belief in the potential for developing and putting one in place. My purpose is to show how the Godly benefits of your actions can be increased by billions of times while employing substantially less time, money, assets, efforts, and resources than you and others are already applying."
Excellent Solutions: How to Apply God's Wisdom for Greater Fruitfulness (For-Profit Edition) is now available on Amazon.
Donald Mitchell is the founder of The 400 Year Project, a Christian initiative launched in 1995. He is the author and coauthor of fourteen books in total for the project, including The 2,000 Percent Solution. Mitchell is also the founder of Mitchell and Company, a strategy and financial consulting firm in Weston, Massachusetts. He has consulted for more than half of the Fortune 500 companies. He also heads Mitchell Investment Management Company, Inc. and Leading Executive Organizations 100, Inc.—an executive training firm. Mitchell is a graduate of Harvard College and Harvard Law School. He is a member of the bar in Massachusetts.
Contact: Donald Mitchell, 781-647-4211