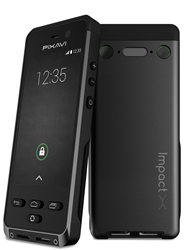 Shell demanded Zone 1 certification, a certification that puts very high demands on the design of the product.
Stavanger, Norway (PRWEB) August 22, 2014
During the Offshore Northern Seas exhibition (ONS) in Stavanger next week, BARTEC PIXAVI will present the world's first high-end IECEx and ATEX Zone 1 certified Android smartphone for use in explosive hazardous areas. The product is nominated for the ONS Innovation Award, and is a result of a long-term partnership between Shell and BARTEC PIXAVI. BARTEC PIXAVI has designed the smartphone in-house and from scratch. The innovation is named "Impact X" and it is nothing short of revolutionary technology within the target market.
There are explosive hazardous areas in multiple industries including oil and gas, mining, chemicals and manufacturing. These hazardous areas can be challenging for mobile workers and Shell, who wanted to create an innovative solution for their mobile workers teamed with BARTEC PIXAVI, the leader within mobile devices for hazardous areas. Together, the two companies formed a joint research and development (R&D) project to define a solution that would fulfill Shells standards for mobility and meet IECEx and ATEX certification specifications. The smartphone is the latest addition to the comprehensive product portfolio and an essential part of the BARTEC strategy to 'go mobile'. The target is to lead the way and release a range of tablets, smartphones and accessories.
"Shell demanded Zone 1 certification, a certification that puts very high demands on the design of the product. We have been able to create a device that bridges the gap between consumer and industrial mobile devices. The product is ready to use right out of the box, just like a regular smartphone," says BARTEC PIXAVI CEO Christian Rokseth. "We have been very fortunate to work with Shell developing this product. Shell is one of the most innovative operator companies I have worked with, and they are working hard to improve all aspects of their operations."
In addition to being Zone 1 & 2 ATEX and IECEx certified, the Impact X is waterproof and extremely ruggedized. It has a sunlight readable display with a touch sensor designed for heavy rain and for operation with gloves. The smartphone has three high-end cameras, a fast processor and double the battery capacity of a typical consumer smartphone. All these functions are essential for workers in hazardous environments.
When using the Impact X smartphone, the user have access to a wide range of value adding apps and services, such as office mobility apps, inspection and maintenance apps, ERP solutions, safety systems and communication tools to mention a few.
"We see this device as a potential enabler for many smart innovations within industrial mobility, giving the users a versatile and powerful device to help them do their job," says Derek Robertson from Shell.
For more information, please visit the BARTEC PIXAVI website: http://www.bartec-pixavi.com.
About BARTEC PIXAVI
BARTEC PIXAVI is based in Stavanger, Norway and world leading within Ex and ATEX certified communication products, mobile devices, and wireless infrastructure. BARTEC PIXAVI is part of the BARTEC Group, the world market leader in explosion protection, based in Bad Mergentheim, Germany.
About SHELL
Shell is a global group of energy and petrochemicals companies with around 92,000 employees in more than 70 countries and territories. Shell use advanced technologies and take an innovative approach to help build a sustainable energy future.
Contact information:
Andreas Parr Bjørnsund, Bartec Pixavi, sales(at)bartec-pixavi(dot)com, +47 957 34 142, http://www.bartec-pixavi.com
Alice Bergfall, A/S Norske Shell, alice.bergfall(at)shell(dot)com, +47 97 06 90 38, http://www.shell.com