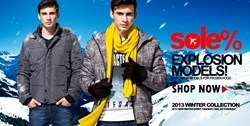 (PRWEB) August 24, 2014
Skmen.com, a renowned garment manufacturer and retailer, has added a new range of long sweater dresses to its online category. Also, the company has decided to launch a summer promotion for these fashionable products. Now, all of them are provided with greatly discounted prices (up to 30 percent off) and low shipping costs.
It is worth mentioning that Skmen.com insists on providing top quality products only. All its newly announced long sweater outfits are carefully made by top experts with a vast knowledge of fashion trends. What's more, they are offered in various amazing colours.
Before the announcement of a new range, Skmen.com's considerate experts will do a lot of marketing research. This is why they can always make customer-oriented items. Thanks to the hard work of its experienced workers, the company is able to provide beautiful clothes in a large quantity. All its trendy items can add beauty and grace to the wearers.
Skmen.com is also known to offer various kinds of men's clothes. Its popular items include T-shirts, men's designer suits and cardigan sweaters. In addition, the company also provides amicable online service and effective transportation service. Its online store is a great shopping platform for those who want to get affordable items and shine among the crowd.
About Skmen.com
Skmen.com, a reliable company founded in 2009, is one of the leading suppliers of men's and women's high quality clothes. It has more than 5000 customers from every part of the world; it hopes to help worldwide stylish ladies and gentlemen. Now, it is selling thousands of fashionable items online. For more detailed information about the company and its wonderful items, readers can visit http://www.skmen.com/product-sweater-dresses-003004008.aspx.