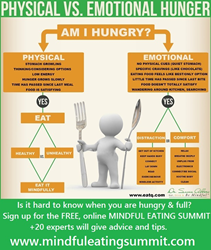 Mindful Eating is not a diet. It's more about how to eat than what to eat.
Cleveland, Ohio (PRWEB) August 22, 2014
A new, online conference is coming August 25th-29th, 2014 about unraveling the mood-food connection. The summit is no-cost and open to everyone. Over 20 top experts will be sharing their best kept secrets, practical tips and advice on how to stop emotional eating, start eating healthier and successful strategies to lose or manage weight. Mindful eating is not a diet. The concept is about how to make food decisions and stay motivated instead of an "eat this, don't eat that" approach.
You can sign up for the online summit by going to the website and entering your email address. http://www.mindfuleatingsummit.com/
The Mindful Eating Summit is hosted by Dr. Susan Albers, a psychologist and author of EatQ (preorder now), Eating Mindfully and 50 Ways to Soothe Yourself Without Food. Her goal is to help people to "ditch fad dieting" and replace it with a healthier, more mindful way to eat. Dr. Albers will begin the Summit by explaining the Mindful Eating Pledge—5 simple behavioral things people can do each day to be more conscious and in charge of how much they eat. The panel of speakers are frequently in the media, on morning talk shows and authors of bestselling books.
After signing up, you will also receive a free, short ebook called "The Emotional Eating Tool Kit."
Dr. Albers' mission is to deliver practical, inspirational, cutting-edge, clinical techniques, and innovative approaches to many of our unique eating challenges – body image, nourishing ourselves, overeating, binge eating, disordered eating, fad dieting, nutrition-linked health conditions to people in a free and easily accessible format.
This conference is perfect for professionals such as dietitians, physicians and therapists who help people improve their eating habits as well as anyone who enjoys healthy food, wants to improve their diet and manage their weight/health.
You can see the list of presenters on http://www.mindfuleatingsummit.com.