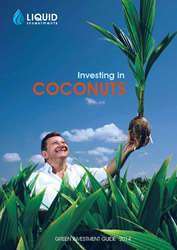 London, UK (PRWEB UK) 24 August 2014
The designation 'The Tree of Life' has not been bestowed upon the coconut tree lightly. This is in part due to the ability of coconuts to grow and thrive in climatically hostile regions, as well as the many benefits it offers for all growers. All aspects of the coconut—coir, copra (shell), husk and water—can be processed separately, which provides investors with multiple layers of security and a higher level of profit potential.
Soft commodities, such as coconuts, have several advantages by providing a multitude of products that serve several end user-markets. The top three coconut producers are the Philippines, Indonesia, and India, which account for nearly 85% of global production are struggling with the supply side factors due to the bulk of their output harvested by small-holders who lack the benefits of economies of scale and technological advancements. Brazil is a small-scale producer in comparison to those listed above, but it remains the only country to improve its generating capacity over the past decade with the potential for consistent growth in the upcoming years. Coconut production is optimal on Liquid's plantations due to specialized crop-care, provided by our joint venture partners Cohibra, helped further by the trees being exposed to the ideal climate conditions of northeastern Brazil.
Coconut water, which has seen increased popularity in the last couple of years in global markets, had an annual increase of 26% between 2007 and 2011. In spite of being a relatively young industry, sales in the US totaled over $350 million in 2012. According to the Food and Agriculture Organization (FAO), the global production of coconuts is only rising by 2% a year, which is inadequate to cope with the 10% annual increase in demand.
The following outlines why coconuts as a commodity is so appealing:

Brazil is the only country with an upward trend in coconut productivity over the past decade.
It is geographically located in a part of the world where natural disasters are obsolete, and has ownership of the largest freshwater supplies globally.
The consumer market for coconut water is the second largest in the world with an increasing demand for "all things coconut."
With the global population rapidly expanding, there will be a higher demand for food, clean energy supplies and other natural alternatives that the coconut supplies.
The key points investors should take away from this report is that they should shift more attention to emerging markets and continue to diversify their portfolios by focusing on alternatives, such as agriculture.
For the full version, download the "Investing in Coconuts" guide.
For further information:
Jayshree Badhan, Chief Marketing Officer
Jayshree.Badhan(at)liquid-investments(dot)com
Call:
+44 (0) 20 7084 7421
Note to Editors:
Founded in 2006, Liquid Investments is a British owned and operated business headquartered in London, UK with an additional office in Fortaleza, Brazil. The company provides global investment solutions that allow institutional and private investors to accumulate wealth through safe and secure alternative investments in emerging markets.
Liquid's investment process is driven by 'Liquid Investment Theory' (LIT), a refinement of Modern Portfolio Theory, itself used in one form or another by all fundamentally driven investors. LIT focuses on investing in tangible alternative assets providing a greater degree of security (such as asset secure farmland), with products that deliver a consistently higher level of returns (currently double digit annual yield) to a wide variety of end-user markets.