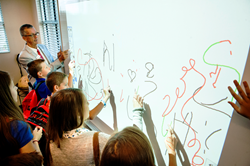 Technology does not drive the educational experience at Prep. What's best for students drives what happens in the classrooms.
Tampa, Florida (PRWEB) August 25, 2014
Tampa Preparatory School is excited to announce the opening of the new Active Learning Environment remodel of the Middle School. In the ever-changing collegiate and workplace environments, it is imperative that students have collaboration and problem-solving skills. Within the Active Learning Environment, students will have the opportunity to experiment with and take steps towards mastering these two skills. Knowing that all students learn differently, teachers and students were involved in the planning process of the renovation.
To prepare for the renovation, Tampa Prep took many things into consideration, such as the role of light, ergonomics, traffic and interaction. One of the most important considerations was the skill set students need to be successful in today's world. Being able to work in a collaborative technologically advanced environment is imperative for students of today.
"The student experience was at the center of every decision that was made on this project. Although technology is on display throughout our Active Learning Environment, it is there as a tool to enhance the student experience," says Middle School Director Joe Fenlon. "Technology does not drive the educational experience at Prep. What's best for students drives what happens in the classrooms."
The renovation includes space for students to collaborate and explain their work outside the walls of a normal classroom utilizing multiple displays and a green screen. Taking students out of the traditional classroom setting will foster independent problem-solving and collaboration. The common area will have furniture that is easily rearranged to encourage a collaborative work environment.
In the classroom, Tampa Prep will be the first school in the country to have the world's first 3LCD touch-enabled interactive projector line two parallel walls. This brand-new technology allows students to wirelessly display content from their iPads while teachers maintain control by having the ability to choose whose content to display. With a dry erase "wall talker," walls will still have dry erase capabilities. To further assist in the ease of learning for every student, Tampa Prep will be utilizing the Redcat system to amplify the teacher's natural voice throughout the classroom. Teachers will be able to converse with students in a natural tone with the new surround sound technology. The Redcat system will further improve students' learning in the classroom. With interactive projects, furniture that is easily arranged and the new audio system, each student in every row in Tampa Prep's Middle School will have the experience of sitting in the "front row."
Tampa Prep's Director of Technology Chad Lewis states, "one of the most important parts of this renovation was making sure that every student had the same experience no matter where they are sitting in the classroom. We want every student to have the opportunity to experience learning from the front row."
All of the technology and features that will be available to teachers and students will assist in the unique learning styles of Middle School students. The renovation will prepare students to participate comfortably in a collaborative environment. In today's every-changing times, Tampa Prep aims to prepare students for the educational system that awaits them.
For more information, contact Communications Coordinator Katie Hehn at khehn(at)tampaprep(dot)org.
About Tampa Prep
Tampa Preparatory School celebrates leading the way in education with our focus on what's best for students. Our independent, coeducational college prep school enrolls more than 600 students in grades 6 - 12. This year we celebrate 40 years as an institution that instills values of fairness, decency, honor, diligence and academic curiosity. Students receive unparalleled instruction from caring teachers at the school's 150,000 square-foot complex located in the heart of downtown Tampa. Our vibrant school community offers a "preparation for life with a higher purpose than self" as students and faculty live our mission as a place to think, create, aspire to excellence and go beyond. Find out more at http://www.tampaprep.org.