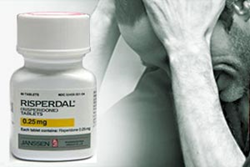 Contact Wright & Schutle LLC today for your free Risperdal gynecomastia lawsuit case evaluation by visiting www.yourlegalhelp.com or by calling 1-800-399-0795 to speak with one of the firms experienced attorneys.
Columbus, OH (PRWEB) August 26, 2014
A recently released study supports claims in Risperdal lawsuits that the antipsychotic drug Risperdal can cause the develop gynecomastia, or abnormal breast growth. In the study published on August 6, 2014, in the Journal of Clinical Psychopharmacology, researchers from the University of Columbia examined the health records of 82,850 men, between 40 and 85 years old. The men took different types of prescribed antipsychotic drugs, including risperdone, an ingredient found in Risperdal. Researchers found that 27 out of 174 men who used risperdone developed gynecomastia within two months of taking the medication. Researchers further claim their study is the first large epidemiologic study that quantifies the risk for gynecomastia with risperdone. There are currently over 700 Risperdal lawsuits pending litigation that content the side-effects of Risperidone caused these men to develop enlarged male breast or gynecomastia. The lawsuits were filed in state and federal courts across the country against Johnson & Johnson and its subsidiary, Janssen Pharmaceuticals Inc., which manufactures and markets Risperdal. (In Re: Risperdal Litigation, Case Number 100300296)
[journals.lww.com/psychopharmacology/Citation
/publishahead/Risperidone_Use_and_Risk_for_Gynecomastia
_in_Men_.99394.aspx, August 15, 2014]
Wright & Schulte LLC notes, Risperdal is an atypical antipsychotic drug approved by the U.S. Food & Drug Administration (FDA) to treat schizophrenia, bipolar disorder, and irritability in autistic children and adolescents. In addition to gynecomastia risks associated with the drug, studies have also cited concerns over Risperdal use in children. A study published in June by the Australian government's Drug Utilization Subcommittee estimated 12,680 Australian children less than 19 years old were taking an antipsychotic drug as of October 31, 2012. According to the report, risperidone was the most common drug taken by children 14 years old and under. The Australian government has approved risperidone to treat children and adolescents with behavioral disorders associated with autism, schizophrenia, and bipolar disorder. A study that focused on children in the United States found that Risperdal and other antipsychotic drugs were being prescribed to treat Attention Deficit Hyperactivity Disorder (ADHD) even though the medication had not been approved by the FDA to treat ADHD. The study, published in the April 2014 issue of Health Day News, reviewed data from more than 260,000 children enrolled in one state's Medicaid program in 2006. According to the report, nearly one-third of children in foster care who had been diagnosed with ADHD were prescribed antipsychotic drugs, including Abilify, Risperdal and Seroquel. [pbs.gov.au/industry/listing/participants/public-release-docs/antipsychotics/antipsychotics-children-adolescents.pdf] [philly.com/philly/health/topics/HealthDay686601_20140410_Too_Many_Foster_Kids_ With_ADHD_Treated_With_Antipsychotic_Drugs__Study.html, HealthDay News, April 10, 2014]
As Gynecomastia lawsuits continue, Risperdal lawsuit filed In the U.S. District Court, Northern District of New York on July 8, 2014 case no. 1:14-cv-00820-GTS-RFT, contains similar allegations. According to the Risperdal complaint, a 21-year-old Albany, New York man began taking Risperdal for mental health issues as a child in 2001 and continued taking the medication until 2008. The Risperdal complaint contends that after the man developed gynecomastia, he began lactating. According to the Risperdal lawsuit, the man underwent multiple breast reduction surgeries and sustained other serious, painful, disabling, and permanent personal injuries. The Risperdal lawsuit purports that the defendants, Johnson & Johnson and its subsidiary, Janssen Pharmaceuticals Inc., failed to properly warn about the dangers of the drug and continued to promote Risperdal as being safe and effective despite reports of adverse events associated with the medication.
Court documents indicate that due to the increasing number of Risperdal lawsuits being filed in the Philadelphia Court of Common Pleas, the court has placed Risperdal comlaints under a Mass Tort program for complex, multi-filed cases. (In Re: Risperdal Litigation, Case Number 100300296)
There are currently 706 Risperdal lawsuits pending in the Philadelphia Court of Common Pleas. The Risperdal complaints were filed on behalf of males who allege they grew abnormally large breasts as a result of using the antipsychotic medication.
About Wright & Schulte LLC
Wright & Schulte LLC, an experienced personal injury firm, is dedicated to the belief that America's legal system should work for the people. Every day, the attorneys of Wright & Schulte LLC stand up for the rights of people who have been injured or wronged and fight tirelessly to ensure that even the world's most powerful corporations take responsibility for their actions. If you're looking for a law firm that will guarantee the aggressive and personal representation you deserve, please do not hesitate to contact Wright & Schulte LLC today. Free Risperdal lawsuit case evaluations are available through yourlegalhelp.com or by calling 1-800-399-0795.
Contact:
Wright & Schulte LLC
812 East National Road
Vandalia, Ohio 45377
1-800-399-0795
http://www.yourlegalhelp.com
Like us on Facebook
Follow us on Twitter
Join us on Google+