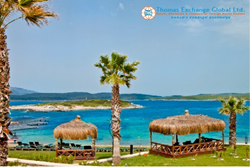 September is the high season for Istanbul, Cappadocia and Izmir. An Autumn trip to Turkey will be a wonderful experience for British travellers
London, UK (PRWEB UK) 1 September 2014
Popular metropolitan city of Turkey Izmir improved in 100 places of its ranking in a recent global tourism survey conducted by ICCA. For those who are planning to visit Izmir and other tourist destinations in Turkey, Thomas Exchange Global offer the most competitive exchange rates in London.
"Turkey's coastal metropolis of Izmir jumped more than 100 places in the most recent ICCA international convention cities ranking" reported CWN on 15th of July 2014. The report further states that Turkey at 18th of the global country rankings thus highlighting the ever increasing popularity of Turkey as a business and holiday tourism destination.
"Turkey is full of culture, adventure and beautiful beaches. September is the high season for Istanbul, Cappadocia and Izmir. An Autumn trip to Turkey will be a wonderful experience for British travellers," stated Trevor Samuel, the Marketing Manager, Thomas Exchange Global.
Thomas Exchange Global is geared up to offer the best exchange rates for Turkish Liras this autumn and the most competitive Euro exchange rates for visitors heading to other European destinations. The company also stocks over 120 types of foreign currencies whereas no waiting time is required to buy most of them.
About Thomas Exchange Global Ltd
As dedicated foreign exchange specialists, Thomas Exchange Global has the professional expertise, in depth market knowledge, technological infrastructure and commitment to provide an unprecedented level of service that sets the standard in the foreign exchange industry. They are specialists in all areas of foreign exchange. They provide commission free currency as well as travellers cheques.
Thomas Exchange Global also offers International Money Transfer Service where funds can be remitted to overseas bank accounts within 1 to 2 days. With commission free service for transfers over £10,000 backed by competitive exchange rates, customers are assured of a better deal and a substantial saving compared to banks and money brokers.
Thomas Exchange Global branches are located at Strand, Victoria Street, Liverpool Street, Hammersmith, Cannon Street and Wormwood Street.
For further details visit http://www.thomasexchangeglobal.co.uk or call 020 7240 1214.