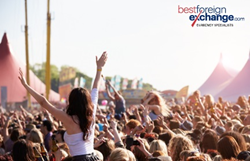 a week long concerts, forest, boat and island parties in Rovinj will be the best way for party goers to sign off the summer
London Uk (PRWEB UK) 2 September 2014
After a successful maiden show in 2013, Unknown Festival will return to Croatia in early September. "Unknown will take place at the purpose built Amarin resort, situated in the picturesque town of Rovinj in Northern Croatia, where rolling hills and crystal waters abound with secluded forest areas, strung hammocks and secret stages, delivering a wonderland of adventure for the entire week (expected to be) from Monday 8th until Friday 12th September 2014." Reported e-festivals on 12th August 2014.The organizers confirmed the participation of nearly 100 artists and announced the list is still growing.
"Croatia is a wonderful holiday destination and a week long concerts, forest, boat and island parties in Rovinj will be the best way for party goers to sign off the summer." stated Trevor Samuel, the Marketing Manager, BestForeifnExchange.com.
Expecting a large participation of British music lovers and party goers, Best Foreign Exchange.com will offer the best exchange rates for Croatian Croon during the autumn. "We are well aware that many festival-goers will be travelling across the continent. To meet the needs of such travellers we offer unbeatable exchange rates for Euro, Polish Zloty, Check koruna, Hungarian Forints and other European currencies," said Trevor.
About Best Foreign Exchange.com
Owned and operated by Thomas Exchange Global, BestForeignExchange.com offers the most competitive exchange rates in London and customers that reserve currencies online will be assured the same exchange rate until close of business on the particular day despite any adverse fluctuations. They stock the widest range of foreign currencies in London with over 120 types of foreign bank notes. All foreign currency buy/sell transactions are free of any commission or charges.
Thomas Exchange Global also offers International Money Transfer Service where funds can be remitted to overseas bank accounts within 1 to 2 days. With commission free service for transfers over £10,000 backed by competitive exchange rates, customers are assured of a better deal and a substantial saving compared to banks and money brokers. Thomas Exchange Global branches are located at Strand, Victoria Street, Liverpool Street, Hammersmith, Cannon Street and Wormwood Street.