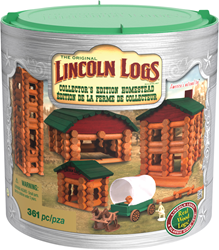 Hatfield, PA (PRWEB) August 26, 2014
LINCOLN LOGS, part of the K'NEX Brands family, the US construction toy company focused on Building Worlds Kids Love®, is pleased to announce 2 new additions to its 2014 product line!
Developed in 1916 by the son of famous American architect Frank Lloyd Wright, LINCOLN LOGS is a classic toy brand that has been entertaining and teaching children for over nine decades. Building with LINCOLN LOGS sets helps children develop fine motor and problem solving skills. Known for quality and durability, LINCOLN LOGS has become more than just a toy brand… it has become an authentic piece of Americana!
Grand Pine Lodge
Saddle up to the biggest LINCOLN LOGS set ever created—the Collector's Edition Homestead! This building set features 330 pieces including, real wood logs, a frontiersman figure, a buildable covered wagon, and 2 horses. Set also comes with step-by-step building instructions. When playtime is over, put the parts back into the handy storage container for a quick and easy clean-up. Suggested retail price is $99.99. Ages 3+. Available now on knex.com and at toy retailers nationwide.
Collector's Edition Homestead
Build a lodge with an attached stable! The Grand Pine Lodge includes real wood logs plus colorful figures and play accessories and features cowboy and horse figures! This classic Lincoln Logs set comes with building instructions and is packaged in a handy storage container for quick and easy clean-up. Suggested retail price is $24.99. Ages 3+. Available exclusively at Toys 'R Us and toysrus.com.
For more information on Lincoln Logs Building Sets, visit http://www.lincolnlogstoys.com/, and "like" Lincoln Logs on Facebook!
HASBRO and its logo, LINCOLN LOGS, are trademarks of Hasbro, and are used with permission.
About K'NEX Brands
Founded in 1992, K'NEX Brands, the world's most innovative construction toy company, was established to make and sell what has become one of the world's leading integrated construction systems for children, and is America's STEM building solution. Winner of over 250 international awards and recognitions, K'NEX, America's Building Toy® company, is focused on Building Worlds Kids Love® and encourages youngsters to "imagine, build and play." From the living room to the classroom, K'NEX has building toys specially designed for every age group and skill level. The K'NEX family of brands includes K'NEX Building Sets, K'NEX Thrill Rides, K'NEX Education®, Lincoln Logs®, Tinkertoy®, NASCAR®, Angry Birds™, Mario Kart Wii™, Mario Kart 7™, Super Mario™, PacMan™, Titanfall™, Family Guy™, Plants vs. Zombies™, and more. Since 1992, The Rodon Group®, a subsidiary of K'NEX Brands, L.P., has manufactured over 31 billion parts for the K'NEX building toy system. Join us as we help build the leaders of tomorrow. For more information, please visit http://www.knex.com or http://www.rodongroup.com.
About Hasbro
Hasbro, Inc. is a branded play company providing children and families around the world with a wide-range of immersive entertainment offerings based on the Company's world class brand portfolio. From toys and games, to television programming, motion pictures, video games and a comprehensive licensing program, Hasbro strives to delight its customers through the strategic leveraging of well-known and beloved brands. LINCOLN LOGS is a trademark of Hasbro and is used with permission. © 2014 Hasbro, Inc. All Rights Reserved.
###