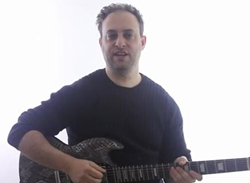 (PRWEB) August 22, 2014
Claude teaches this easy guitar lesson on ninth chords in the style of George Benson. "This is one of my favorite chords and is used a lot of popular songs," says Johnson, "this is from a George Benson song called Affirmation". Claude demonstrates the chord voicing, Em9 (E minor nine), as follows: 7th fret of the 5th string with 2nd finger, 5th fret of the 4th string with 2nd finger, 7th fret of the 3rd string with 3rd finger, 7th fret of the 2nd string with 4th finger and first string open. Claude demonstrates the riff from Affirmation by strumming the Em9 chord and following it with a melodic lick based on the G Major scale. Guitar TAB's are available for this easy guitar lesson at GuitarControl.com.
The Minor Ninth chord is composed of a minor triad with an added ninth. The formula for the m9 (minor ninth) voicing consists of the first, flat third, fifth and ninth notes of the major scale.
The major scale, aka the Ionian Mode, is a seven tone diatonic scale that is widely used in western music. The eighth duplicates the first at double its frequency so that it is called a higher octave of the same note, which its name is derived from Latin "octavus", the eighth.
George Benson is an American singer song writer from Pittsburg Pennsylvania who began his career as a guitarist at the age of 21 in 1963. Over the course of his career George has released 36 studio albums, 5 live albums and 18 compilation albums as well as numerous other collaborations. Benson has also been awarded 10 Grammy Awards.
Claude Johnson
Claude Johnson, a native of Philadelphia PA, began playing guitar in 1990 after being inspired by players like Jimi Hendrix, Eric Clapton, and Stevie Ray Vaughn. He is the creator of GuitarControl.com and has helped 1000's of people to learn to play the guitar with his critically acclaimed instructional DVD courses, all available at GuitarControl.com
About GuitarControl.com
GuitarControl.com is the leader in modern guitar instruction. It's packed with resources including articles, video lessons, and the best videos in the business for the beginner to the advanced guitar student taught by the best instructors out there. Weather you are into the blues, rock, jazz, metal, folk, or anything in between, they have you covered.