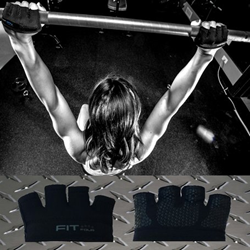 Bountiful, UT (PRWEB) August 26, 2014
Fit Four™, an athletic apparel company, continues to build on the success of its revolutionary four finger Callus Guard™ workout glove by launching the new Neo-Grip™ weightlifting glove. Offering four-finger callus guard protection, made from premium high density neoprene and featuring an anti-slip silicone grip on the palm, the Neo-Grip™ minimalist workout glove is perfect for cross training and high intensity workouts.
Since launching its revolutionary four finger Callus Guard™ workout glove, Fit Four™ has continued to find new and innovative designs to help athletes achieve their goals with fitness apparel that is comfortable and practical. Now, with the Neo-Grip™ fitness glove, Fit Four™ is hoping to attract athletes that are more involved in cross training workouts that include hanging bar work, ropes and kettle bells. As exercising becomes more varied the needs of athletes change and the old, bulky weightlifting gloves just don't provide the protection today's cross trainers need.
The Neo-Grip™ exercise glove is made of 90% neoprene and 10% silicone. The neoprene material is high density and gives the wearer extra comfort and cushion. The anti-slip silicone grip on the palm gives athletes a big advantage when doing exercises that require a strong grip on bars, ropes and kettle bells. Without gloves you run the risk of perspiration causing your grip to slip which could result in injury. With the Neo-Grip™ fitness glove you get a more solid grip where you need it, right in the palm of your hands. Climbing ropes, walking with dumbbells and hanging from pull-up bars can now be accomplished with a sure, more confident grip allowing athletes to reach their goals.
What makes the Neo-Grip™ glove so appealing to athletes is the minimalist design that doesn't interfere with traditional and modern exercise routines. The easy-on/easy-off design of the glove allows trainers to quickly adjust their gym apparel when they need it to get a better grip on bars and other fitness equipment. The neoprene cushion absorbs impact and allows for natural hand movement without the glove slipping off the bar. The hexagonal silicone grip pattern on the palm allows each anti-slip silicone shape to move independently, to adjust and conform to the bar's shape. The interior of the glove is lined with a thin rubber layer to keep the glove from sliding down or bunching up.
Available in all black, the Neo-Grip™ glove comes in sizes of X-Small, Small, Medium, Large and X-Large. The gloves can be hand washed with mild soap and air dried if necessary.
The Fit Four™ Neo-Grip™ gloves are ideal for traditional exercises including bench press, power cleans and curls as well as cross training exercises including pull-ups, rope climbs, tires, kettle bell swings and Sumo lifts. Fit Four™ was created from the passion of healthy, active living. The company is dedicated to creating superior fitness products to aid athletes, cross trainers and gym members in reaching their full potential.