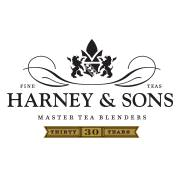 New York, New York (PRWEB) August 24, 2014
Harney & Sons Fine Teas, celebrating thirty years and three generations of master tea blending, honors the life and legacy of Founder John Harney on August 26, 2014, donating 30% of sales to The Marine Scholarship Fund and offering free shipping to customers on their website.
Remembered in The New York Times as the "missionary who spread the gospel of tea," Mr. Harney founded Harney & Sons over 30 years ago with the mission to provide customers around the world access to the best quality tea available. Mr. Harney worked his last day on June 16, 2014 and passed away at home on June 17, 2014 at the age of 83. Born on August 26, 1930, John Harney would have been 84 years this month.
To honor John Harney's legacy of fine tea, Harney & Sons invites customers to enjoy a special promotion on their website: http://www.harney.com. On August 26, 2014, the company will offer free shipping until 11:59 PM EST. In addition, 30% of all sales will be donated to The Marine Scholarship Fund in memory of John Harney. This fund will become an endowed scholarship at The Marine Corps Scholarship Fund and will assist children of Marines for many years to come.
Serving from 1948 until 1952, the Marine Corps were an enduring commitment for John and his family. Two of John's sons were officers in the Marines. In 1983, John began his own company, Harney & Sons. He said he was never scared of failure, he thought people would like great tea. This was the start of tea's resurgence. John became a luminary in the tea world. Always ready to share a cup of tea with customers and competitors. His legacy of fine tea lives on, helping restore the American palate for high-quality teas. Please join the Harney & Sons community in "Raising a Teacup to John Harney."
About Harney & Sons Fine Teas
Harney & Sons was founded on a commitment to deliver the finest quality tea possible. This promise, made 30 years ago, serves as the company's guiding principle. Today, Harney & Sons remains family owned and managed, with three generations of the family preserving Founder John Harney's tradition of fine tea and traveling the world in search of the finest ingredients. The company sources, blends, and packages their own product from start to finish. Their goal is to bring the exotic aromas and refined tastes from around the world to tea drinkers as an affordable luxury. Harney & Sons Fine Teas fills 90,000 square feet of warehouse space and employs over 160 people. From lugging heavy tea filled chests down the basement stairs of their home 30 years ago, to stocking shelves at Targets nationwide today, Harney & Sons remains committed to providing a superior tea drinking experience.