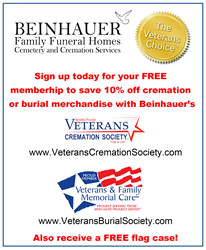 Numerous benefits available for our Veterans
Mcmurray, PA (PRWEB) August 22, 2014
Beinhauer Family Funeral Homes has been chosen as a local provider and member of the Veteran & Family Memorial Care.
Veterans & Family Memorial Care is the nation's leading funeral home network for cremation and burial arrangements for veterans and family members. VFMC is extremely selective when inviting funeral homes to join its program. A combination of committed, dedicated, caring service while ethical business standards remain above the decorum are the set criteria funeral professionals must meet to be considered for VFMC membership.
Beinhauer's have met all the standards and has been added to the nearly one thousand providers across America to join the Veterans & Family Memorial Care as a local provider.
Community service is a strong attribute within this program. A few charitable events that are sponsored by the VFMC and directly benefit the nation's veterans are Operation Valentine, Stockings for Soldiers, Sweaters for Veterans, and many more.
Additionally, Beinhauer's once again exceeds expectations by being a provider for the Veterans Cremation Society and the Veterans Burial Society. These societies are free to join for veterans and family members including spouses, parents, and adult children. Members receive special pricing discounts as well as a free wood flag case for honorably discharged veterans.
About Beinhauer Family Funeral Homes:
Beinhauer Family Services is a family-owned funeral, cremation and cemetery service provider that has cared for families in Allegheny and Washington County communities since 1860. The Beinhauer family prides themselves on Trust, Integrity, Compassion, and Value.
###