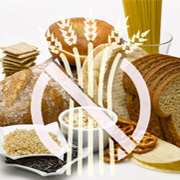 Many consumers are on the look out for gluten-free products, which makes gluten-free labeling an important consideration.
Denver, CO (PRWEB) August 26, 2014
Food manufacturers that sell products in the United States may have to take another look at their food product labels in light of the Food and Drug Administration's new labeling laws affecting the use of the term "gluten-free." Lightning Labels, a custom label and sticker printing company, can help companies as they look to adjust their product labels to comply with the new standards.
"Whether it is because people have celiac disease, engage in new diets or any other reason, gluten-free foods have grown more popular over the years," said Scott Proctor, Vice President of Sales at Lightning Labels. "Food manufacturers producing these items need to stay abreast of new rules and guidelines and ensure their product labels comply with guidance to ensure they are promoting their products in the correct fashion. This will not only help promote transparency but also ensure buyers stay healthy."
Gluten-Free Labeling is Important
Many people are on the look out for gluten-free products, which makes gluten-free labeling an important consideration. As the American Celiac Disease Alliance has reported, as many as 3 million Americans- approximately 1 percent of the population - have a sensitivity to foods with gluten in them, which means living a gluten-free life style is a must for them. Some of the common signs and symptoms of celiac disease include iron-deficiency anemia, lactose intolerance, fatigue, joint pain and migraines. Eating the protein may damage the lining of the small intestine, which can lead to other problems getting all the vitamins and nutrients people need.
This is why it is important for food manufacturers to use labels that make it plainly apparent whether their products are gluten-free and for the brands to ensure their goods are actually compliant with federal regulations. Not only does misusing this term constitute false advertising, but it may also lead to unpleasant customer experiences, which may result lost sales in the future.
The FDA defines gluten-free foods as having less than 20 parts per million of gluten. Additionally, products may not contain any ingredient consisting of wheat, rye and barley, an ingredient derived from those grains. Products can be listed as gluten-free even if they don't inherently have any gluten, such as spring water, fruits and vegetables.
Custom Food Labels Help Companies Promote Gluten-Free Status
Food manufacturers must comply with the new gluten-free rules on their custom food labels or else they may face fines and other disciplinary action. If companies need to change their custom food labels - whether their products were previously labeled gluten-free and now don't fit under the definition, or if they want to promote the fact their goods are gluten-free going forward - they should work with a printing company such as Lightning Labels.
Lightning Labels can help food manufacturers produce new labels quickly and efficiently, minimizing any downtime stemming from last-minute label changes.
For those ready to place label orders, Lightning Labels is offering 10% off online orders plus a chance to win a portable entertainment package now through 9/25/14. Use promo code GLUTEN10. Maximum discount is $1000. Free ground shipping applies to orders placed online only and shipped within the United States & Canada. Enter code at checkout. This offer cannot be combined with any other offers or promotions. No purchase necessary. Open to legal residents of the United States and D.C. age 18 or older. Void where prohibited. See website for more details.
About Lightning Labels:
Lightning Labels uses state-of-the-art printing technology to provide affordable, full-color custom labels and custom stickers of all shapes and sizes. From small orders for individuals, to the bulk needs of big businesses, Lightning Labels is equipped to handle and fulfill custom label and sticker projects of all types. Best of all, like the name implies, Lightning Labels provides a quick turnaround for every customers' labeling needs. Uses for Lightning Labels' custom product labels and custom stickers include food packaging and organic food labels, wine and beverage labels, bath and body labels, and nutraceutical products, such as vitamins, essentials oils, and herbal remedies, as well as event stickers, adhesive window stickers and more. Lightning Labels strongly supports the development of environmentally friendly printing materials and carries EarthFirst PLA, a new kind of green label material made from corn instead of petroleum. While operating as a high-tech printer, Lighting Labels prides itself on its personalized customer service. Lightning Labels provides one stop shopping for all of your custom label needs. For more information and to place orders online, visit LightningLabels.com. For the latest in packaging news and labeling promotional offers, find Lightning Labels on Twitter (@LightningLabels), Facebook, Pinterest, Google and LinkedIn.