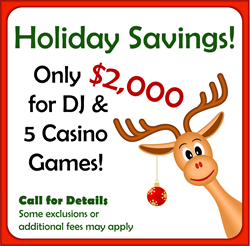 Great savings for amazing memories!
Pittsburgh, PA (PRWEB) August 22, 2014
Entertainment Unlimited has the ability and experience to make any corporate holiday party more enjoyable through unique and exciting entertainment options.
Entertainment Unlimited connects individuals, groups, and businesses to entertainment from A-Z. Ranging from bands, to DJs, to casino games, and more, Entertainment Unlimited's possibilities are endless.
Rather than standing around wearing red and green with dull music playing in the background that can hardly be heard, Entertainment Unlimited offers a mass list of entertainment to spice up the holiday spirit.
Build and inspire relationships through unique experiences with Entertainment Unlimited's corporate events. Entertainment Unlimited offers many opportunities to engage in fun team strengthening activities. Events like these are great for improving Team Building skills with all employees.
Bring in the holiday cheer with our holiday specific entertainment such as Carolers, Mr. and Mrs. Claus, The Ice/Snow Queen, Holiday Themed Murder Mysteries and of course Elves!
DJs, Casino Games, Game Shows, Photo Booths and so much more take the average holiday party to a super energetic and unforgettable night for the entire company. Corporates who choose to enrich their employee's holiday experiences through Entertainment Unlimited's long list of entertainment create an environment and experience that will never be forgotten.
For more information, please visit http://www.entertainmentunlimited.com.
About Entertainment Unlimited:
Entertainment Unlimited serves Pennsylvania, Ohio, West Virginia and all over the United States and offer a variety of top quality entertainment including bands, disc jockeys, national acts, tribute acts, comedians, magicians, hypnotists, casino and theme parties, speakers, novelty entertainment and more. No matter the occasion, Entertainment Unlimited can find the best fit for whatever comes its way.