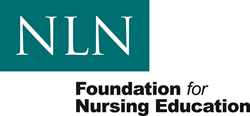 'Life-long learning and academic progression are key priorities for the NLN to fulfill our mission to promote excellence in nursing education.' - CEO Dr. Beverly Malone
Washington, DC (PRWEB) August 22, 2014
Paying tuition and other related educational expenses will be a little easier in the coming year for four nurse educators pursuing advanced degrees, thanks to scholarship awards from the National League for Nursing Foundation for Nursing Education. This year's recipients – all doctoral candidates – will share $28,000, $10,000 more than in 2013, thanks to these named NLN Foundation funds: the Margaret Ann Kerr Endowment and Elizabeth Isaac Marcil Endowment Funds, both donated by Kathy Mershon; the Jack and Joe Simpson, Jr. Endowment Fund; and the Dorothy A. Otto Endowment Fund.
The scholarship awards will be formally presented during the 2014 Education Summit on Friday, September 19, as part of the four-day, capacity-crowd gathering in Phoenix, Arizona of leading scholars in nursing education, faculty, deans, administrators, and executives from allied health care organizations.
The 2014 NLN Foundation scholarship recipients are:
Nakia C. Best, MSN, RN, CNL
Clinical Instructor, Duke University, Durham, NC
Candidate: Doctorate of Philosophy in Nursing, University of North Carolina at Chapel Hill
Janet A. Levey, MSN, RN-BC, CNE
Assistant Professor, Concordia University Wisconsin, Mequon
Candidate: Doctorate of Philosophy in Nursing, Marquette University, Milwaukee, WI
Zula Price, MSN, RN
Assistant Professor, Langston University, Langston, OK
Candidate: Doctorate of Philosophy in Nursing Education, Hampton University, Hampton, VA

Deborah A. Stone, MSN, RN
Instructor, Fitchburg State University, Fitchburg, MA
Candidate: Doctorate of Philosophy in Nursing and Health Promotion, University of Massachusetts, Lowell
Two of the scholarship recipients are from traditionally underrepresented groups within nursing education, observed Nancy Langston, PhD, RN, FAAN, ANEF, chair of the NLN Foundation, highlighting a goal of the scholarship program to expand the diversity and cultivate greater cultural competence of nurse educators.
"I am a latent deaf adult nurse educator with a hearing service dog and have discovered barriers for this population in nursing education and the nursing profession," Ms. Levey wrote in her application. "Over time, I have become a resource and role model for nursing students and colleagues who have a disability or a different way of learning." From Ms. Best came this statement: "As an African-American nurse educator and student, I [am proud to] serve as a role model for minority students."
Dr. Langston added: "Special thanks go to the funders of our endowments and to the dedicated committee members who gave so much personal time and attention to choosing our scholarship recipients. This valuable program has a direct impact on individuals seeking to complete master's or doctoral studies."
Ms. Levey plans to use some of the money to defray the costs of her research project and for travel expenses to attend the Summit, when she will make a poster presentation on her study; Ms. Price said the scholarship will help pay costs associated with completing requirements for the NLN Certified Nurse Educator credential and to attend the NLN Writing Retreat, while Ms. Best will attend an annual informatics conference in addition to paying tuition bills with her scholarship.
The program was created in 2007 to promote academic progression by alleviating the financial burden of returning to school to earn an advanced degree. Scholarship recipients are expected to seek full-time employment at schools of nursing once they've completed their degrees. A shortage of nurse educators has long been cited as one key obstacle to expanding the capacity of pre-licensure nursing programs to admit more qualified applicants.
"Life-long learning and academic progression are key priorities for the NLN to fulfill the League's mission to promote excellence in nursing education to build a strong and diverse nursing workforce to advance the health of our nation and the global community," noted NLN CEO Beverly Malone, PhD, RN, FAAN. "One way to do that is to make pursuing advanced degrees more affordable for nurse educators dedicated to scholarship and excellence in nursing education."
Editors/Reporters: For interview opportunities, please contact Karen R. Klestzick, chief communications officer at the NLN, at 202-909-2483..
Dedicated to excellence in nursing, the National League for Nursing is the premier organization for nurse faculty and leaders in nursing education. The NLN offers faculty development, networking opportunities, testing services, nursing research grants, and public policy initiatives to its more than 40,000 individual and more than 1,200 institutional members, comprising nursing education programs across the spectrum of higher education and health care organizations.