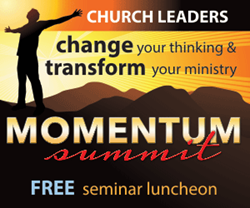 The Momentum Summit will help you capture the momentum and expand ministry impact. - Pastor Terry Bates, Author & church consultant
Stockton, CA (PRWEB) August 28, 2014
Building God's Way, a company that has created a nationwide network of services exclusively for faith-based organizations, will be hosting free half-day seminars for churches this fall entitled "Momentum Summit". The seminars will be hosted in 10 cities between Sept 23 - Nov 13, with a video option for those churches not within driving distance of a live event site.
Live seminar sites will include Stockton, CA; Mission Viejo, CA; Lansing, MI; South Riding, VA; Charlotte, NC; Boca Raton, FL; Houston, TX; West Monroe, LA; Madison, WI; and Salt Lake City, UT.
The Momentum Summit will feature experts and consultants in the areas of church health & growth; church design, construction & remodel; fundraising; the latest developments in A/V technology for worship and more.
Attendees will learn innovative ideas and strategies from a panel of speakers who have worked with hundreds of churches across the country.
The event will run from 9am - 12:15pm, followed by a complimentary lunch. For more information or to register, visit the event website or call 866-249-8484.