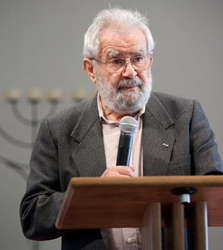 Thomasville, North Carolina (PRWEB) August 24, 2014
Holocaust survivor and scholar Dr. Walter Ziffer will present "Witness to the Holocaust" at Piedmont Crossing Retirement Community on Thursday, September 11 at 2pm. The presentation is free and open to the public.
As a Jew and a native of Czechoslovakia, Ziffer will share experiences of his town's invasion by German Nazi troops on September 1, 1939, the first day of World War II, the two years following the occupation, deportation in June 1942, being conscripted into forced labor, which led to the deaths of most of his family members, and his induction into the German concentration camp empire. In the presentation, Ziffer will share the difficulties of surviving the German genocide.
This project is made possible by a grant from the North Carolina Humanities Council, a statewide nonprofit and affiliate of the National Endowment for the Humanities.
To make a reservation, call Piedmont Crossing Director of Marketing Blair White at 336.474.3605.
Piedmont Crossing, a not-for-profit retirement community located on 61 acres in Thomasville, NC offers cottages, town homes, and apartments as well as a variety of services. For more information on Piedmont Crossing visit http://www.piedmontcrossing.org or contact Blair White at 336-474-3605.