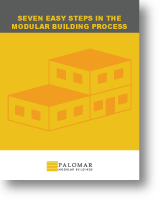 (PRWEB) August 22, 2014
Palomar Modular Buildings is releasing a white paper titled Seven Easy Steps In The Modular Building Process. The company's white paper is a comprehensive guide that divides the modular building process into seven stages. Each stage of the modular building process is explained in detail to provide people unfamiliar with the modular construction industry insight into how a modular building is created. The white paper covers building design, engineering, permits and approvals, site development, plant fabrication, transportation and installation. Whether you are building a portable classroom or a full man camp facility supporting 1500 people the development process involves the same steps.
The white paper can be found on the Palomar Modular Buildings website at http://www.palomarmodularbuildings.com/modular-process/
The company's modular construction process provides building developers with an environmentally-friendly, low waste, cost-effective structure in a fraction of the time it takes with conventional construction.
About Palomar Modular Buildings
Palomar Modular Buildings manufactures advanced modular buildings for a range of industries including office, retail, healthcare, education and workforce housing. The company's state-of-the-art manufacturing facility in DeSoto, Texas, is staffed with a dedicated full-time workforce of skilled tradesmen and production managers has produced hundreds of modular projects from simple additions to complex new facilities.
# # #
If you would like further information about this press release or to schedule an interview with John Martin, please contact John Martin at jmartin(at)palomarmodular(dot)com or call 1-866-312-4032.