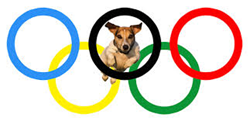 Daycare Olympic Games...stimulate the dogs intellectually and physically
Escondido, California (PRWEB) August 27, 2014
Beginning in September, K9 Dog Park will launch doggy Daycare Olympic Games (DOG) as an interactive, fun way for daycare dogs to learn and compete. The September Games will be free to all K9 Dog Park Doggy Daycare clients who bring their dogs into the facility for at least two days per week. Clients will be able to watch their dogs compete through K9 Dog Park's doggy daycare webcams. The dogs that compete in D.O.G. will win prizes as will the trainers who work with the dogs in preparation and competition. Training and competitions will be posted on the K9 Dog Park Facebook page and on YouTube.
The brain child of Penny DiLoreto, Owner of K9 Dog Park and professional dog trainer, Daycare Olympic Games is intended to stimulate the dogs intellectually as well as physically and to challenge the daycare trainers. DiLoreto commented "dogs love to run, jump, play, socialize and be stimulated mentally so why not take all of that, organize it and have some friendly competition? The Daycare Olympic Games will be set up to allow dogs of different sizes to compete within their "weight class" to be fair to all dogs. The winners will be determined by accumulated score to determine Gold, Silver and Bronze medalists. After learning about D-O-G several of our regular clients have shared their support and excitement for the program."
The Daycare Olympic Games will include several fun elements including:
Trick Showdown: Participants are divided into two teams. Each handler and dog pair demonstrate a task or trick and challenges the other team to perform it. A handler and dog from the other team must perform the trick. If the other team cannot find a dog that can do the trick or the dog doesn't perform it to the judges' satisfaction, the team receives a "D." Teams take turns challenging each other until one team has the letters "D-O-G." The team that does NOT spell out the word "DOG" wins.
Marathon Down: Will test the dog's obedience and concentration. After handlers place their dogs in the down position, various distractions will be presented to the dogs. The dogs that remain down the longest win.
Musical Hoops: Is like musical chairs for dogs! While the music plays, handlers heel their dogs around a row of hula hoops. When the music stops, handlers tell their dogs to "sit" (or "down") so that at least two of their paws are in a hoop. Any dogs without two paws in a hoop are excused. One hoop is then removed and the game continues until only three dogs remain. The last three dogs are the winners.
Over/Under/Through: Is an obstacle course designed to test the dog's agility and speed. The challenge is to make it through all the obstacles correctly with the fastest time.
Tic Tac Toe: Instead of X's and O's, dogs are used in this game of tic tac toe! Dogs and handlers are divided into two teams. The teams take turns selecting the square by placing dogs on the board and in the selected square. During each selection a different command of Sit, Down, Stay, etc. is used. Each dog must be in a sit-stay or down-stay in their square for at least three seconds. If a dog breaks the sit-stay or down-stay, he must leave the board. Play continues until one team has three dogs in a row.
Dress 'Em Up Relay: In the You Can Dress 'Em Up Relay, handlers and dogs race to a box of clothing, where dogs must be dressed in a t-shirt with one leg through each sleeve, a scarf and two socks. Dogs are then heeled back to the starting line to tag the next team member. The fastest team wins the heat. Elimination rounds will determine the final winners.
Although Daycare Olympic Games is free to doggie daycare guests, dogs will have to come to the center regularly through September to participate. DiLoreto commented, "I think our clients will love the benefits of this program for their dog who will be stimulated to learn new things. We offer daycare clients discount packages on doggie daycare to make it easy for everyone to participate. This is going to be fun and exciting!"
ABOUT K9 DOG PARK:
K9 Dog Park is the recognized leader in dog services for the San Diego North County. Located in Escondido, California, K9 Dog Park offers overnight dog boarding, doggy daycare, dog grooming, dog training, low-cost vaccinations, low-cost canine teeth cleaning and retail. Owner Penny DiLoreto CPDT-KA, Animal Behaviorist and Professional Dog Trainer, is the author of two books, The Potty Training Answer Book and Gonna Buy Me a Dog. DiLoreto is a pioneer in advanced training techniques for dogs. She has created training techniques for snake avoidance training without the use of shock collars; Therapy and Service Dog training as well as behavior adjustment for dogs with fear, frustration and aggression issues. Additionally the center trains dogs for bad manners and obedience with it's problem solving, AKC-STAR Puppy, and AKC-Canine Good Citizen courses.
If you have any questions regarding information in these press releases please contact the company listed in the press release.
CONTACT INFORMATION
Penny or David DiLoreto
K9 Dog Park
http://www.K9DogPark.com
(760) 745-3647