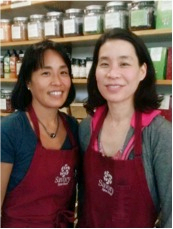 Seattle is a wonderful place to open up our Savory Spice & Co. shop as this market is a rich confluence of culinary flavors and styles
Lynnwood, WA (PRWEB) August 25, 2014
"Seattle is a wonderful place to open up our Savory Spice & Co. shop as this market is a rich confluence of culinary flavors and styles," said Alisa Inouye, Alderwood Savory Spice & Co. owner. "We believe that our high quality herbs, spices and seasonings will be a great addition to the Seattle area and a wonderful complement to the shopping experience at Alderwood Mall."
Located in the open air section of Alderwood Mall, across from American Girl, Savory & Co. offers over 400 freshly ground herbs and spices, and over 160 handcrafted seasonings. Having a vast selection of common and exotic spices, the shop is infused with the rich, wonderful aromas of spice from around the world. Customers are encouraged to sample the extensive selection of spices and have the ability to customize the amount of spice needed for their recipes, starting at as little as a half ounce. Ask for a "cinnamon tour" and taste the five different varieties of freshly ground cinnamon including: Indonesian Cassia, Chinese Cassia, Saigon Cassia as well as Ceylon and Organic Ceylon Cinnamon.
Alisa Inouye developed her passion (and romance!) for spices while traveling the world with her family. Ten years ago, she took an Indian cooking class with Hema Parekh in Tokyo that introduced her to innovative vegetarian cooking. This inspirational class forever changed Alisa's culinary approach to cooking as she began experimenting with fusion cooking and unique ways to use traditional flavors and cooking techniques. She loves cookbooks and recipes, but likes to say that she is congenitally incapable of following a written recipe without tweaking. Alisa looks forward to exchanging knowledge and ideas with other foodies who visit her in the store.
Alisa is joined by her sister, Erica Myers, who shares several passions including a love of food, travel and the same inability to follow recipes. Erica has been guilty of dragging her family on countless culinary adventures where many times she has been so eager to dive into a dish that she forgets to take a photo – another passion of hers. She can always be found carrying a bottle of Savory's Italian Black Truffle Sea Salt in case she encounters a plate of fries (irresistible to her!) or anything else that can be "truffle-ized!
Founded in 2004, Savory Spice Shop is a collection of locally owned and operated community spice shops offering the highest quality and greatest selection of freshly ground herbs and spices and hand-crafted seasonings. The spices and seasonings are ground and blended weekly to ensure superior quality and freshness. Savory Spice Shop is known as a "Cook's Paradise", catering to experienced and aspiring cooks alike and has developed a loyal following across the country with locations in twelve states.