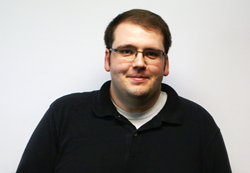 Lima, OH (PRWEB) August 24, 2014
Daniel Ladd has been an Associate of Range Kleen Mfg for the last 7 years as the Information Systems Programmer. Throughout those years Daniel has shown ambition and has made improvements within the company's internal technical processes, working with all departments in implementing cost saving or time saving processes improvements through the use of technology.
In recognition of his continuous hard work and tireless efforts, Daniel has also achieved a degree in Computer Information Systems/ Business Management with The University of DeVry.
Daniel's current role as Senior Systems Analyst will be working closely with the Director of IT and nationwide sales representatives to design, prioritize, and implement custom programming solutions, network designs, and web/ Ecommerce applications.
We value and support our Associates who continue to improve themselves through educational opportunities. Congratulations on all of your achievements!
About Range Kleen Mfg., Inc.
Range Kleen Manufacturing, Inc. is a Lima, OH based company manufacturing household products sold to major retail chains globally and has been taking care of the customer (TCOTC) since 1971. Its product divisions include: Original Equipment Manufacturing Quality (OEM) replacement drip pans for ranges & stoves; Non-stick Metal Bakeware; Kitchen Decorative products specializing in exclusive licensed designs;
Storage, Organization, insulated food and beverage bottles and household cleaning supplies. Range Kleen Introduced their own line of cookware- Stainless Steel and Enameled Cast Iron as well as pot racks in 2007.
Effective December 21, 2009, Range Kleen Manufacturing was pleased to announce the partnership with Berndes Cookware USA and has taken the lead of all sales, marketing and shipping of Berndes Cookware USA from their International Headquarters in Lima, Ohio.